Nebraska Road to Statehood State Study Unit Distance Learning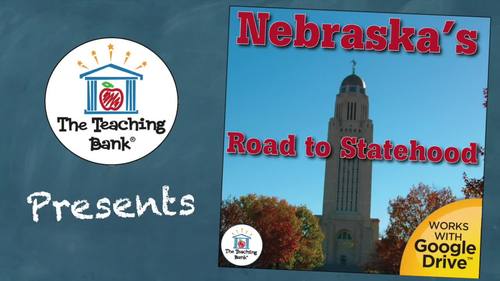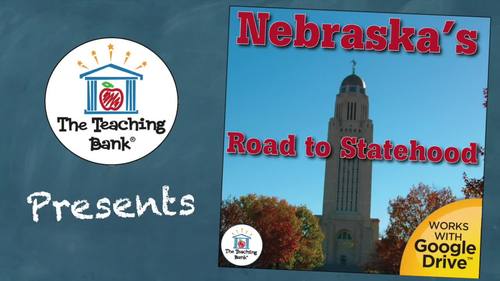 Created By
The Teaching Bank
Also included in:
Nebraska State Study Interactive Notebook, which works for both print and Google Drive™, is a complete bundle to use for your state study for Nebraska. This unit has everything you need to cover the entire study of Nebraska. It is aligned to the newly adopted 2019 Nebraska State Social Studies Stand
Learning Objective
To assist students to gain an understanding of Nebraska's road to statehood in the pioneer days.
Product Description

Standards
The Nebraska Road to Statehood Interactive Notebook Activities, which works for both print and Google Drive™, is a great activity to study Nebraska's road to statehood in the pioneer days. This item is section 8 of my larger Complete Nebraska State Study Interactive Notebook Unit.
This download contains both a printable format as well as a Google Drive™ compatible format and includes:
• Cover sheet for the notebook
• Information on how and why to use Interactive Notebooks
• Links to helpful online resources.
• Informational Slideshow Presentation to use for instruction.
• Guide with a link to Google Drive file and instructions on how to use.
• IntelliNotes™ format to use when you are short on time.
• Teacher Directions
• Tutorials for the foldable activities
• The Kansas-Nebraska Act activity
• The Homestead Act plus "Proving Up" activity
• Housing on the Prairie activity
• Life of a Pioneer Child activity
• Railroad in Nebraska activity
• Statehood activity
• Answer Key for all activities
• Checklist for the alignment to the 4th grade Nebraska State Social Studies Standards adopted in 2019.
→Please check out the sample to see examples of everything included in this download.
All of the activities in this Interactive Notebook are included in my larger bundle Complete Nebraska State Study Interactive Notebook Unit. If you're looking for a larger study for the state of Nebraska please check it out. It is a comprehensive unit that covers everything that you need for the year for the study of Nebraska.
Try a free sample activity from this bundle here: Growing Nation US History Oregon Trail Mapping Activity Sample
Please check out my other Social Studies Interactive Notebook Activities that I offer that you may be interested in:
• The Oregon Trail Interactive Notebook Activities
• Lewis and Clark Interactive Notebook Activities
• Native Americans of Nebraska Interactive Notebook Activities
***********************************************************************
© Google Inc. All rights reserved. Google and the Google Logo are registered trademarks of Google Inc. The Teaching Bank® is an independent company and is not affiliated with or endorsed by Google Inc.
Log in
to see state-specific standards (only available in the US).
By the end of year, read and comprehend informational texts, including history/social studies, science, and technical texts, in the grades 4–5 text complexity band proficiently, with scaffolding as needed at the high end of the range.
Integrate information from two texts on the same topic in order to write or speak about the subject knowledgeably.
Interpret information presented visually, orally, or quantitatively (e.g., in charts, graphs, diagrams, time lines, animations, or interactive elements on Web pages) and explain how the information contributes to an understanding of the text in which it appears.
Determine the meaning of general academic and domain-specific words or phrases in a text relevant to a grade 4 topic or subject area.
Explain events, procedures, ideas, or concepts in a historical, scientific, or technical text, including what happened and why, based on specific information in the text.
Teaching Duration
2 Weeks
Report this Resource to TpT