Never Fall Down Novel Study (Revised Nov 2022)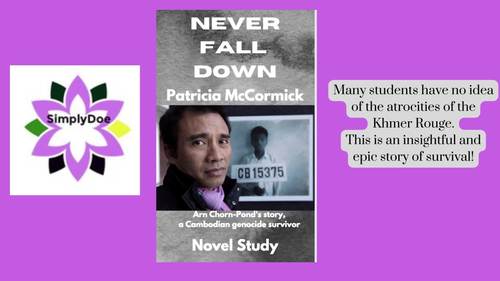 ;
Description
When soldiers arrive at his hometown in Cambodia, Arn is just a kid, dancing to rock 'n' roll, hustling for spare change, and selling ice cream with his brother. But after the soldiers march the entire population into the countryside, his life is changed forever. Arn is separated from his family and assigned to a labor camp: working in the rice paddies under a blazing sun, he sees the other children, weak from hunger, malaria, or sheer exhaustion, dying before his eyes. He sees prisoners marched to a nearby mango grove, never to return. And he learns to be invisible to the sadistic Khmer Rouge, who can give or take away life on a whim.
DUE TO THE GRAPHIC NATURE OF THIS NOVEL, I SUGGEST IT BE USED WITH 10-12 GRADE STUDENTS. YOU MAY WANT TO SEND HOME A PARENT PERMISSION FORM INCLUDED IN THE NOVEL STUDY.
Unit Information – 22 pages / 7 slides (Includes pdf and Editable Word documents)
Novel Study Unit – Historical Fiction
This Unit contains the following items:
· Introduction PowerPoint Presentation of the Khmer Rouge/The Killing Fields (7 slides)
· Parent Permission Form (1 page)
· Suggested Reading Schedule & additional vocabulary Resource pages (page 2)
· Video Resources 1-3 of the Genocide to prepare students for the novel study (1 page)
· 140 Novel Study Q & A – (4 pages)
· Novel Study Student Questions Handout (3 pages)
· Novel Answers Resource Page (3 pages)
The questions are only literal/recall questions that can be used as daily running quizzes as students read the novel. Instructors are free to create their own higher order thinking questions for this novel.
· Vocabulary Student Handout (1 page)
· Vocabulary Definitions Resource Page (1 page – 10 words)
· Novel Study Test (Includes answers and optional essay) (5 pages)
· Essay Grading Rubric (1 page)
Teaching Duration
2 Weeks
Report this resource to TPT