New Year Vision Board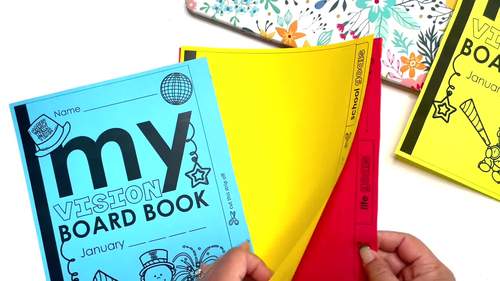 ;
Description
Happy New Year!
If you are looking for the perfect New Year activity for primary students, this is for you!
I've always loved the idea of creating vision boards with students, but the lack of a magazine collection would often stop me. Not only that, but unfortunately, many magazines contain images and words that we don't want our primary students to see. I decided to create my own magazine!
Included:
-Teaching slides that need to be read aloud so students know what a vision board is, why people make them, and how they will complete this one. There is even a video included to show students how to cut the booklet out properly...less work for YOU!
-Kid Vision "Magazine" with images and words for students to cut out and create their collage.
-Vision board booklet with tabs to create 3 vision boards (school, life, and one for them to include whatever they'd like).
This resource will allow your students to not only create a vision board booklet, but also gain a conceptual understanding of what a vision board is. This is a great activity for the first few days back during the new year when you just need a minute to reset, and your students can focus up on their goals for the second half of the year!
Materials needed: Slide show (included) Kid Vision Printable Magazine (included) scissors, glue, any other "fun" items that your students might enjoy that you have on hand (stickers, stamps, etc.)
1.Display these teaching slides. As you read them, pause to discuss the big ideas on each page. This slideshow will teach students what a vision board is, why people make them, and how to go about making their own.
2. You have options! Depending on your pandemic safety protocols, you make want to run a copy of the Kid Vision magazine for each student so that they won't need to share materials. Otherwise, you can print some copies of the magazine to put on the table along with some other kid-friendly magazines (if you choose!) You don't need to have any other magazines, but if you have them, use them! You can also encourage students to bring in small photos if they would like.
3.Put on some fun music, pass out their Kid Vision Magazine, and let them go to town! You may find it helpful to create a teacher-made vision board so that students can see what the idea is. Encourage them to fill the page up with cutouts, pictures, stickers, etc. Instead of gluing only one thing on the page. (In your teacher-made example, make one of the pages a non-example by gluing one small thing on. Then, hold that page next to another page that is all filled in like a collage and encourage the latter.
You can stretch this project out over the first week back.
Happy New Year!
Report this resource to TPT