New Years Play| Ojisan and the Grateful Statues Japanese Folk Tale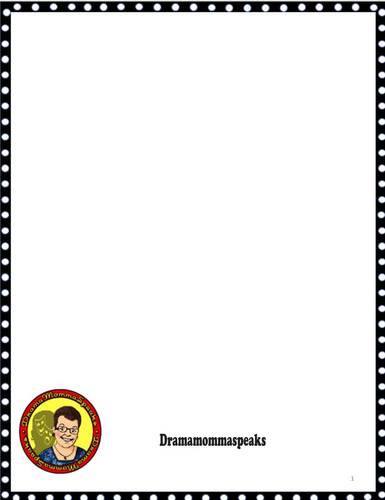 ;
Also included in
BUNDLE:Created for the classroom teacher and easy to produce!20 OFF! 290 pages of 9 multicultural plays with units, (each 15 minutes in length) appropriate for a public performance, however they were created with the classroom in mind. Students strengthen their study of other cultures, reading (flu

Price $48.00

Original Price $60.50

Save $12.50

ELEMENTS OF DRAMA GRAB BAG! 20% OFF!! These SIX products are tailored for elementary and middle school students by an award winning drama teacher and director of thirty-eight years. Included in this bundle:1 play--perfect for the end of the semester before the winter holiday1 biography (Lin Manuel M

Price $17.50

Original Price $25.00

Save $7.50

DISCOUNT 30%! Are you looking for year-long theater education curriculum and help from an award winning, veteran drama teacher? I created a gigantic bundle of drama lessons, units and plays to help you! This bundle includes 49 products (NEARLY 1,500 PAGES) which were all created by me and time test

Price $199.14

Original Price $285.24

Save $86.10
Description
BUNDLE This charming play based on a Japanese folk tale and its unit (37 pages) share the themes of New Years, multiculturalism, winter, kindness and forgiveness. Students strengthen their study of other cultures, reading (fluency), speaking (diction) and listening skills (restating) while learning to work cooperatively. This is excellent and very suitable for a Vocal Music, Social Studies or Drama class.
Based on the beloved Japanese folk tale by the same name, students will have an opportunity to:
• dramatize a folk tale using many of the elements of drama
• create straw hats
• design snowflakes
• sing an original song written in a pentatonic scale
• and use their imaginations to express emotion through movement.
Integrate with your vocal music teacher and present the play together! Your students can sing and accompany the song with metallophones, xyllophones and percussion.
This product comes with:
• script with stage directions to help you be successful
• stage properties list
• costume suggestions
snowflake construction directions
hat construction directions
post performance discussion questions and quick activity
• original song
recording of the melody with the accompaniment
Comprehensive? You bet.
Time tested and created by an award winning drama teacher of 38 years,
Ojisan and the Grateful Statues is a guaranteed winner.
For more Dramamommaspeaks products, go to:
Reviews of other Dramamommaspeaks products:
Radio Theater I
"This is such an original and creative drama unit. It is extremely thorough and has everything I need. I think you covered all the bases. Excellent resource, I highly recommend."
Storytelling through Student Created Pictures
"I love the challenges included in this resource and what it does to storytelling. I can't wait to try them with my students! Thank you!"
Stage Properties
An absolutely comprehensive package that is easy to implement- what a time saver! A creative way of encouraging students to learn about stage properties, view video examples, take notes, and simply be creative! Looking forward to using this!
Earning TPT Credits
• Do you want credit for future TPT purchases? Just provide feedback for resources you purchase. Click on the "provide feedback" button next to your purchases, rate the resource, and leave a short comment. (You need to do both to earn credits.)
You receive 1 TPT credit for each dollar you spend, and you can spend it just like cash on future Teachers Pay Teachers purchases.
Report this resource to TPT