No Prep Music Theory Worksheets Rhythm & Pitch: St. Pat's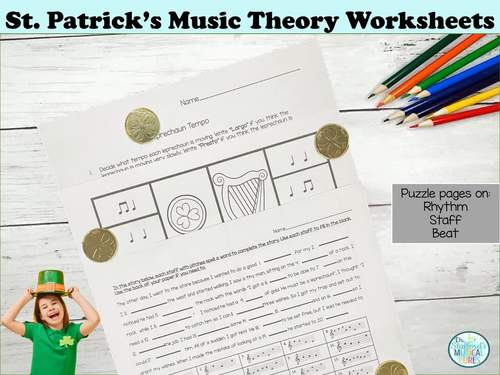 ;
Easel Activity Included
This resource includes a ready-to-use interactive activity students can complete on any device. 
Easel by TPT is free to use!
Learn more
.
Description
Needing new worksheets for music class? This set of handy music education worksheets (no prep!) has a St. Patrick's Day theme and is wonderful for substitutes, while meeting various music objectives. These music worksheets in PDF include:
•Two Clip-It Sheets with ta, ti-ti rhythm patterns
•A maze with rhythmic counting as the clue. Ta, ti-ti, rest, tika-tika.
•Word rhythm activity up to ti-tika or tika-ti.
•Pictural movement graphics for Largo or Presto
•Story to decipher pitches of the staff that spell words
•4 color sheets with rhythm matching
•Answer keys
Use these for:
Virtual or home learning
Substitutes
Music class centers
A nice, easy relaxation day for classes that are ahead of the others.
There is also an Easel version through Teachers Pay Teachers.
You might also like:
**I would be very grateful if you could leave a review if you purchase this product. This will help me know what teachers want and help me improve on future products. Plus, you get credit towards discounts on future products!
Report this resource to TPT