Nobel Peace Prize Winners Close Reading Comprehension Book | 3rd & 4th Grade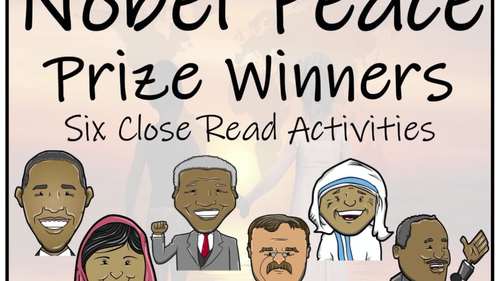 ;
Easel Activity Included
This resource includes a ready-to-use interactive activity students can complete on any device. 
Easel by TPT is free to use!
Learn more
.
What educators are saying
My students enjoyed this resource. Especially learning about different Nobel Peace Prize recipients.
Description
A close reading activity bundle with six reading comprehension activities. Each activity has an informational text with comprehension and grammar questions followed by an extension task, crossword puzzle and wordsearch activity. The NO PREP reading comprehension activities are perfect for students in third grade or fourth grade. Students will learn about inspirational world figures whilst developing their comprehension skills.
The book includes individual activities on:
Nelson Mandela
Mother Teresa
Martin Luther King
Barack Obama
Theodore Roosevelt
Malala Yousafzai
⎻⎻⎻⎻⎻⎻⎻⎻⎻⎻⎻⎻⎻⎻⎻⎻⎻⎻⎻⎻⎻⎻⎻⎻⎻⎻⎻⎻⎻⎻⎻⎻⎻⎻⎻⎻⎻⎻⎻⎻⎻⎻⎻⎻⎻⎻⎻⎻⎻⎻⎻⎻⎻⎻⎻⎻⎻⎻
Included in this PDF printable resource:
Six informational texts
Each with a comprehension activity with ten questions
Each with grammar questions about the text
Each with an extension writing activity
Answer sheets for self-assessment or teacher use
Each with a crossword puzzle & wordsearch activity
Ready-made Easel Activities perfect for distance learning
For a Google Forms digital version of this resource that students can complete on tablets, phones and computers download the Nobel Peace Prize Winners Close Reading Activity Bundle | Digital & Print.
⎻⎻⎻⎻⎻⎻⎻⎻⎻⎻⎻⎻⎻⎻⎻⎻⎻⎻⎻⎻⎻⎻⎻⎻⎻⎻⎻⎻⎻⎻⎻⎻⎻⎻⎻⎻⎻⎻⎻⎻⎻⎻⎻⎻⎻⎻⎻⎻⎻⎻⎻⎻⎻⎻⎻⎻⎻⎻
This resource is great for:
In class learning
Independent work
Homework
Guided reading sessions
Assessment practice
Reading interventions
Emergency sub plans
The activity requires NO PREP; it has a body of text that students need to read through thoroughly; then they can use the text to find the comprehension and grammar answers. All texts then have an extension activity for those fast finishers and answers, for teacher use, are on the final page of the document.
⎻⎻⎻⎻⎻⎻⎻⎻⎻⎻⎻⎻⎻⎻⎻⎻⎻⎻⎻⎻⎻⎻⎻⎻⎻⎻⎻⎻⎻⎻⎻⎻⎻⎻⎻⎻⎻⎻⎻⎻⎻⎻⎻⎻⎻⎻⎻⎻⎻⎻⎻⎻⎻⎻⎻⎻⎻⎻
Time allowance to complete:
5 minutes - read through the text individually.
40 minutes - answer questions using the text as guidance (including extension activity)
15 minutes - Teacher and students go through the text and answers.
Other similar or relevant resources:
⏚⏚⏚⏚⏚⏚⏚⏚⏚⏚⏚⏚⏚⏚⏚⏚⏚⏚⏚⏚⏚⏚⏚⏚⏚⏚⏚⏚⏚⏚⏚⏚⏚⏚⏚
For more great resources follow my store ⇉⇉ CLICK HERE
Also, don't forget to leave feedback to earn TPT credits to spend!
Teaching Duration
2 Weeks
Report this resource to TPT
Standards
to see state-specific standards (only available in the US).
Ask and answer questions to demonstrate understanding of a text, referring explicitly to the text as the basis for the answers.
Determine the meaning of general academic and domain-specific words and phrases in a text relevant to a grade 3 topic or subject area.
By the end of the year, read and comprehend informational texts, including history/social studies, science, and technical texts, at the high end of the grades 2–3 text complexity band independently and proficiently.
By the end of year, read and comprehend informational texts, including history/social studies, science, and technical texts, in the grades 4–5 text complexity band proficiently, with scaffolding as needed at the high end of the range.
Read closely to determine what the text says explicitly and to make logical inferences from it; cite specific textual evidence when writing or speaking to support conclusions drawn from the text.