Nonfiction Decodable Readers Bundle for Structured Literacy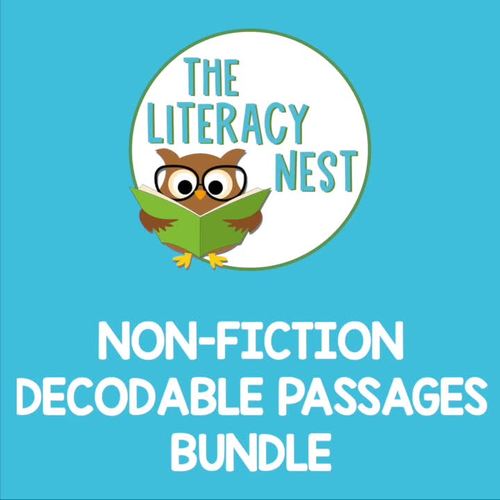 ;
Includes Google Apps™
This bundle contains one or more resources with Google apps (e.g. docs, slides, etc.).
Products in this Bundle (3)
Description
This nonfiction decodable readers BUNDLE is a collection of 121 decodable passages with non-fiction controlled text. Each passage has a comprehension question at the end. It is compatible with the Orton-Gillingham approach, dyslexia intervention or other structured literacy intervention programs.
Please note: These passages do not follow the usual progression I use. They were originally written for a dyslexia pilot program used by the state of Pennsylvania. They still serve as useful decodable text to review and/or solidify decoding skills for specific phonics and spelling concepts. I hope your students enjoy reading them!
The Literacy Nest is the decodable text source for a wide variety of text to support your students with a systematic, sequential progression.
Included:
Nonfiction Decodable Passages Set 1
Nonfiction Decodable Passages Set 2
Nonfiction Decodable Passages Set 3
Please preview before downloading!
Please be sure to check the wide variety of decodable text resources in my store.
--Related Products--
Introduce your students to more dfor additional practice.
Seeking Decodable Passages with Skill Practice? Try this Decodable Passage Bundle.
Check out more O! 
--About The Literacy Nest, LLC--
The Literacy Nest, LLC creates multisensory activities to use with reading intervention for struggling readers. Many of these dyslexia resources can be used as dyslexia activities, dyslexia strategies, or to support an Orton-Gillingham program or dyslexia intervention program. These Orton-Gillingham activities can be used in 1:1 support, small group, or even whole class settings. Thank you for checking my store for Orton-Gillingham based resources! Follow my store by clicking the green star next to my name so you don't miss out on any new products, freebies, or sales!
Please leave feedback on your purchases to obtain credits for future purchases. Don't hesitate to contact me with questions or concerns before rating products.
Thank you so much for choosing The Literacy Nest, LLC for your classroom and homeschooling needs!
Report this resource to TPT