Nonfiction Spring Reading Comprehension Passages included in ALL YEAR Set [v2]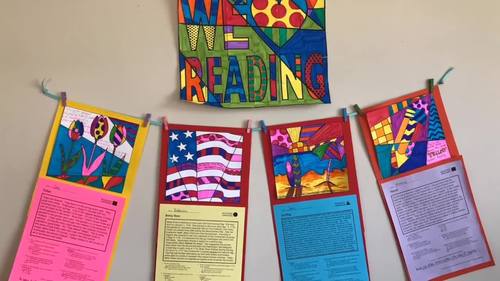 ;
What educators are saying
Left this for my sub on maternity leave. It was outstanding and very clear and easy to use! Lifesaver!
Great variety of topics. High interest, love the different reading levels included for each month.
Description
12 Differentiated Nonfiction Reading Comprehension Passages and Coloring Pages for the entire year! VOLUME TWO. Start using this resource in January for your winter activities and then continue using it all year long. Or jump in part way through the year with spring or another holiday/season.
Each of the 12 nonfiction passages comes in 3 levels for instant differentiation (for grades 3-8).
A lot of teachers in 2nd grade like these as well—you will find that I have included sample pages in the preview—please see those to determine if the reading levels are a good fit for your students.
(If you require easier passages, you may find this resource to be more suitable, Nonfiction Reading Comprehension Passages and Coloring Pages for Grade 2.)
This volume is included in my Reading Comprehension BUNDLE
Other reading comprehension volumes are available (each volume covers different holidays, has different images, and also covers different strategies each month).
Together Art with Jenny K. and Brain Waves Instruction like to put the ART in English Language Arts. That is why we have teamed up to bring you a fun, creative and innovative way to use nonfiction reading passages as you support 21st century skills in your classroom all year long!
These coloring pages aren't your standard color by answer pages. The final artwork will be as unique as the student that created it.
Art integration in 1-2-3
Students will…
1. Read the nonfiction passages.
2. Answer the questions.
3. Turn the answers into unique art!
These activities are perfect to use when preparing for:
• Standardized assessments
• Homework assignments
• Literacy centers
• Art centers
• Before or after school breaks
• Morning work
Each passage targets a critical reading comprehension skill. Each artwork coordinates with the passages for different holidays and seasons of the year. You can use them in succession or pull them out of order and use them in a way that works best of you. Start using this no prep resource any time of the year and use it all year long!
INCLUDED In Volume 2
• Author's Purpose – The Mitten
• Main Idea – Mardi Gras
• Facts and Opinions – St. Patrick's Day
• Sequencing – Umbrellas
• Inferencing – Tulips
• Context Clues – Betsy Ross
• Compare and Contrast – Surfing
• Predictions – Pencils
• Point of View – National September 11 Memorial
• Cause and Effect – Bats
• Summarizing – Turkey Pardon
• Drawing Conclusions – Christmas Stockings
Art integration is powerful for your students. When your students work on this resource they will be improving the following art related skills…
• Creative thinking
• Creativity
• Problem-solving
• Innovativeness
• Fine motor skills
• Color theory
• Exposure to new ideas
• Experience with art materials
• A chance to see the artwork of their peers
What will you need?
Colored pencils, crayons or markers in regular primary and secondary colors.
Copy paper
Scissors
Construction Paper (optional )
Glue (optional)
Other Collaborations Brain Waves Instruction and I both believe in the power of Art Integration. We have co-authored many resources. Here is a list of some of our favorites.
Please click the "Follow Me" button on this page to keep updated on all my new offerings!
Thank you for supporting my work and infusing your classroom with art!
Jenny K.
***************************************************************************
Let's Connect
***************************************************************************
Sign up HERE to join my mailing list and I'll send you my kindness coloring sheets as a 'thank you.' I love to spoil my e-mail subscribers by sending exclusive freebies, tips and tricks, as well as special announcements of sales–not to mention that after you join you'll get invited to my "Subscribers Library" of freebies.
**************************************************************************
TERMS OF USE:
The purchase of this product is for one license and is for PERSONAL USE ONLY.
©Copyright 2017 Art with Jenny K.® ALL RIGHTS RESERVED. Permission is granted to copy pages specifically designed for student or teacher use by original purchaser or licensee. The reproduction of any part of this product is strictly prohibited. Copying any part of this product and/or placing it on the internet in any form (even a personal/classroom website) is strictly forbidden. Doing so is a violation of the Digital Millennium Copyright Act (DMCA).
**************************************************************************
If you like my work please help me keep the price low by purchasing additional licenses for any teacher you would like to share this lesson with. Extra licenses are discounted.
Report this resource to TPT