Nonfiction Synthesizing and Combining Multiple Sources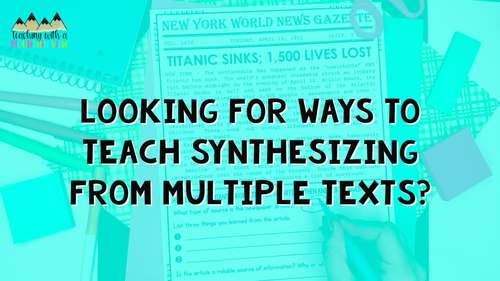 ;
Zip

Google Apps™
Includes Google Apps™
This bundle contains one or more resources with Google apps (e.g. docs, slides, etc.).
What educators are saying
Synthesizing is a difficult skill for students and it can be time consuming gathering resources. I loved the scaffolding in this one with engaging topics for my students.
This was an invaluable resource in helping my students think about their reading. I believe it also helped to prepare my students for their state testing.
Products in this Bundle (4)
Description
If you're looking to take the next step in nonfiction reading... THIS is the set of resources that you need! Students will build important critical thinking skills by combining and analyzing information from multiple texts on the same topic. Ultimately, students will be able to integrate information from two or more texts on the same topic in order to write or speak about the subject knowledgeably.
Which Resources are included in this BUNDLE?
What's Included in EACH Nonfiction Synthesizing Resource?
5 high-quality sources (total of 20 sources to analyze)
Guiding questions and tasks to analyze individual sources
4 pages of tasks to synthesize and combine informational from the individual sources
Suggested Answer Key
What kinds of nonfiction sources will my students be exploring?
Each resource includes 5 different sources!  Take a peek at the individual listing to see a complete list of the sources included for each resource.  Between all four resources, your students will examine: newspaper articles, book excerpts, timelines of events, social media posts, diagrams, firsthand accounts, quotes, court documents, encyclopedia entries, and flow charts!
How much class time will each nonfiction synthesizing resource take to complete?
You should expect each resource to be completed over multiple days. First, students will explore the nonfiction sources on their own, and answer questions related to each source. Then, students will synthesize all 5 sources together in a series of activities that build critical thinking skills and integrate information from multiple sources.
How is each resource formatted?
A printable blackline version : This version includes both the source and student questions on the same page. 
A single-page, full-color, version: This version is perfect to print and laminate to reuse year after year! 
A digitally-optimized Google Slides version
What are real teachers saying about this nonfiction synthesizing resource?
⭐⭐⭐⭐⭐ "Nowhere in our district's curriculum do we have any lessons or resources to help teach nonfiction from multiple sources. This was the perfect supplement! It is also extremely engaging due to using social media posts as one of the sources. This also helped segway into conversations about online safety and critical thinking to fact-check different posts you see online! As always, well done Mary!" -Tara S.
⭐⭐⭐⭐⭐ "This is an awesome resource. So much work went into aligning this to standards and making it look interesting and engaging for students. My 5th graders loved the Titanic articles and we can't wait to try another one later this week!" - Anna B.
⭐⭐⭐⭐⭐"This is a great resource; my students and I love all of her products. I used this in literacy centers and it was very engaging. It aligned to several CCSS perfectly." - Ramlow's Busy Bees
Looking for more Informational Text Resources?
Firsthand and Secondhand Accounts Task Cards
Report this resource to TPT
Standards
to see state-specific standards (only available in the US).
Describe the relationship between a series of historical events, scientific ideas or concepts, or steps in technical procedures in a text, using language that pertains to time, sequence, and cause/effect.
Use information gained from illustrations (e.g., maps, photographs) and the words in a text to demonstrate understanding of the text (e.g., where, when, why, and how key events occur).
Compare and contrast the most important points and key details presented in two texts on the same topic.
Interpret information presented visually, orally, or quantitatively (e.g., in charts, graphs, diagrams, time lines, animations, or interactive elements on Web pages) and explain how the information contributes to an understanding of the text in which it appears.
Explain how an author uses reasons and evidence to support particular points in a text.