Nonfiction Text Feature Surgery | Passage with Text Features | Posters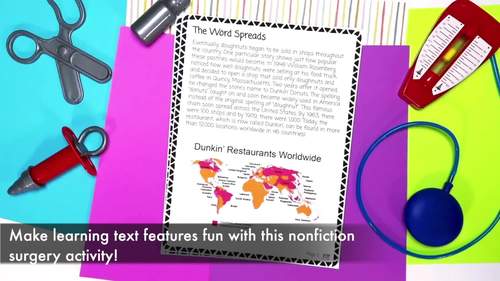 ;
Easel Activity Included
This resource includes a ready-to-use interactive activity students can complete on any device. 
Easel by TPT is free to use!
Learn more
.
What educators are saying
Teaching text features can be hard to make exciting. My 3rd graders loved performing "surgery" plus it drew in other students not in class who were visiting the library.
Also included in
Nonfiction text feature and Irregular Shapes Area surgery has been seen all over social media, and now you can bring these engaging activities to your own classroom! Everything is included in this product to create your own "surgery experience" for your students. You save 20% by purchasing this bund

Price $11.40

Original Price $14.25

Save $2.85

Have you ever wanted to do a classroom transformation but didn't know where to start? This bundle of 17 engaging cross-curricular resources will help you create amazing experiences for your students all year long! Transforming your classroom doesn't have to be time consuming or difficult and student

Price $85.20

Original Price $106.50

Save $21.30

Teaching your students how to read and comprehend nonfiction text can be hard and boring, but it doesn't have to be! That's why we created this bundle of some of our most engaging nonfiction best sellers. Your students will love learning about nonfiction text features, non-fiction text structures, m

Price $24.60

Original Price $30.75

Save $6.15
Description
Nonfiction Text Feature Surgery is not only a fun and engaging activity for your students, but it also helps them to develop important skills in reading comprehension and text analysis. By identifying and analyzing text features, students will become more proficient in understanding nonfiction texts and will be better prepared for standardized testing. This product is suitable for a wide range of grade levels and can be easily adapted to suit your classroom needs. Plus, with everything included in this product, you can save time and energy on lesson planning and preparation.
Get your students excited about nonfiction text features with this engaging and interactive activity! Nonfiction Text Feature Surgery has taken social media by storm and now you can bring this fun and educational experience to your own classroom. This product includes everything you need to create a memorable and hands-on learning experience for your students. Whether you want to keep it simple or go all out with surgical gloves and face masks, this product has got you covered. Give your students a memorable learning experience and help them to become confident and skilled readers with Nonfiction Text Feature Surgery.
In this product you will find:
•Welcome to Medical School- Interactive notes to introduce the non-fiction text features to your students. Includes Table of Contents, Bold Words, Glossary, Heading, Maps, Photographs, Illustrations, Captions, Diagram with Labels, Index and Graphs/Tables. 
•Text Feature Matching Cards- Use these as a matching center activity or a fun memory game.
•Donuts: A Circular Delight-This article can be used as a source for your students to find text features if magazines are not available.
•Surgery Day Checklist- Step by step directions for your students to follow during the surgery activity. 
•Patient Files- Students will analyze the symptoms of 10 patients to determine which text feature would help them. They will then find an example of that text feature in the magazine and glue it into the box. 
•Post-Op Report- An early finisher activity where students will identify the purpose of each text feature, and how it helps the reader. 
•Answer Keys Included
SEE WHAT OTHER EDUCATORS ARE SAYING ABOUT THIS RESOURCE:
❤️"Text features can be tricky. This is a creative way to help students really master this needed skill."
❤️"This was my favorite lesson from the entire school year & my students LOVED IT!"
❤️"I have been wanting to implement text feature surgery, but didn't know how or where to start. This product is adorable and gives you all the tools you need with little to no prep time! Thank you! I cannot wait to use this next year!"
❤️"Love all of the components. Very thorough and great overall quality."
Related Products
⭐ Composite Figures Area Surgery
⭐ Escape Room Solve the Football Mystery Challenge
⭐ Escape Room Solve the Mystery Challenge

⭐⭐⭐ How to get TPT credits to use on future purchases ⭐⭐⭐
Go to your My Purchases page. Beside each purchase you'll see a Provide Feedback button, click it and you will be taken to a page where you can leave a quick rating and a short comment about the product. Why is feedback so important? Each time you provide feedback, you'll earn TPT credits that can be applied to future purchases to save you money! Plus, the feedback you provide helps us make our products better suit your needs!
⭐⭐⭐How To Follow Our Store ⭐⭐⭐
Click to Follow us and receive notifications when we upload a new resource!
Report this resource to TPT
Standards
to see state-specific standards (only available in the US).
Know and use various text features (e.g., captions, bold print, subheadings, glossaries, indexes, electronic menus, icons) to locate key facts or information in a text efficiently.
Use text features and search tools (e.g., key words, sidebars, hyperlinks) to locate information relevant to a given topic efficiently.