Nonfiction Text Features Foldable Craftivity | PDF & Digital | Distance Learning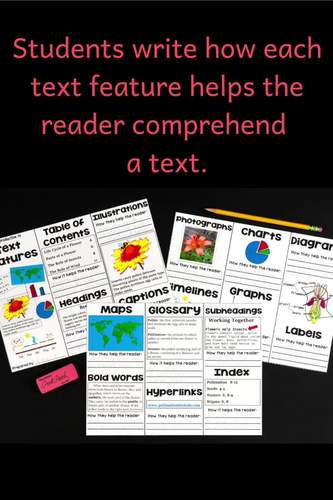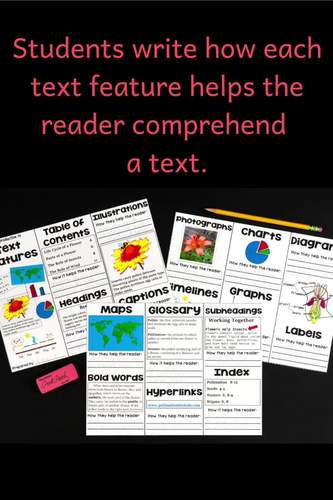 Created By
Deb Hanson
Formats
 TpT Digital Activity
PDF
 (
2 MB
|
13 pages
)
TpT Digital Activity Included
This resource has been prepared for device-based learning by the Teacher-Author and can be assigned to students via Google Classroom.
Learn more
Also included in
This Nonfiction Text Feature bundle is designed to teach students the various text features included in informational text in a way that will keep them engaged. 23 text features are included. This Common Core bundle contains a wide variety of activities, including: 120-slide PowerPoint (You have my
Learning Objective
Students write short sentences explaining how each text feature can help a reader comprehend a nonfiction book.
Product Description

Standards
This engaging study guide activity pack includes two foldable activity options related to nonfiction text features.
ACTIVITY 1: Introduction to Text Features Study Guide- I use this as an introduction activity. I give each student a packet, and I place my own copy under the doc camera. We go through each text feature presented and write a sentence that explains how it helps the reader comprehend the book. (A key is included for teacher guidance, if desired.) Then we assemble the accordion book (using the student-friendly directions included) and tape it into our interactive notebooks.
ACTIVITY 2- Book Identification Study Guide- I use this as a followup activity. It is a lot like a nonfiction text feature scavenger hunt, but it provides picture supports. Students look for the given text features in their own nonfiction book. When they find a text feature, they indicate the page number and write a brief summary below the page number.
This product also includes detailed instructions (with photos!!) for your students to follow. It also includes a teacher instruction page that lists the exact materials you need to prepare for this craftivity.
Be sure to check out the PREVIEW, as it shows ALL of the pages included in this resource. Also, on page 7 of the preview, I explain how I add color to the project since I print the copies in the copy machine that only has black and white ink.
********This resource is available in two formats:
1. Traditional Printables- Print the PDF and distribute paper copies to your students to complete.
2. TpT Digital Activity- With this format, an interactive layer has been added to the original PDF!** This paperless version uses text boxes so that your students can complete it on a device. You can assign it to your students via Google Drive, and they can return it to you to review. Click on the Getting Started Guide to learn more about this version of the activity!
Feel free to check out my other nonfiction text feature resources:
Nonfiction Text Features Craftivity
Nonfiction Text Feature PowerPoint (with a matching companion handout!)
Nonfiction Text Features Memory Game (23 matches!)
Nonfiction Text Features Assessment (22 multiple choice questions!)
By Deb Hanson
This item is a paid digital download from my TpT store
www.teacherspayteachers.com/Store/Deb-Hanson
This product is to be used by the original downloader only. Copying for more than one teacher is prohibited. This item is also bound by copyright laws. Redistributing, editing, selling, or posting this item (or any part thereof) on an Internet site that is not password protected are all strictly prohibited without first gaining permission from the author. Violations are subject to the penalties of the Digital Millennium Copyright Act. Please contact me if you wish to be granted special permissions!
to see state-specific standards (only available in the US).
Describe the overall structure (e.g., chronology, comparison, cause/effect, problem/solution) of events, ideas, concepts, or information in a text or part of a text.
Use information gained from illustrations (e.g., maps, photographs) and the words in a text to demonstrate understanding of the text (e.g., where, when, why, and how key events occur).
Use text features and search tools (e.g., key words, sidebars, hyperlinks) to locate information relevant to a given topic efficiently.
Teaching Duration
90 minutes
Report this Resource to TpT