Nonfiction Text Features PowerPoint | Informational Texts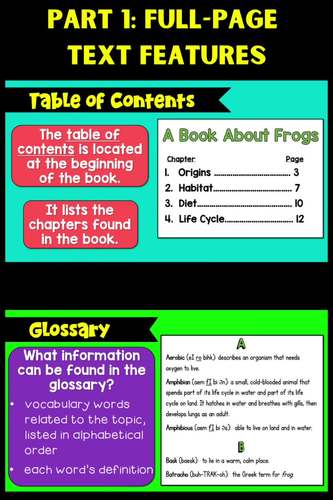 ;
120 slides and a companion handout
What educators are saying
I used this with my fourth graders as a refresher of things they should've learned in previous years!
What great visuals and very nicely laid out to clearly desctive the different features of texts. My students enjoyed this presentation.
Also included in
Understanding text features and how authors use them in nonfiction texts is critical for reading comprehension. This nonfiction text features bundle has everything you need to keep your students engaged as they learn about 23 types of nonfiction text features. The activities in this bundle make lear

Price $14.00

Original Price $27.50

Save $13.50
Learning Objective
Students will be introduced to 23 common text features. Then, they will identify each text feature from a list of multiple choice options.
Description
Are you searching for a step-by-step PowerPoint that can be used to introduce nonfiction text features to your students in a way that will grab their attention? You've come to the right place! This 120-slide PowerPoint is designed to introduce your students to 23 common text features found in nonfiction books. Use this PowerPoint to create engaging lessons over the course of multiple days.
PowerPoints filled with visuals are ideal for teaching new content to students because PowerPoints tend to be highly engaging and concepts can be easily broken down into understandable chunks of information. But let's face it... they are time-consuming to create! Fortunately, now you have an option of using one that is already complete, kid-tested, and ready to go for you!
HERE'S THE SEQUENCE OF TOPICS COVERED IN THIS POWERPOINT:
Slides 1-4: Introduction to Text Features
Slides 5-7: TITLE PAGE
Slides 8-14: TABLE OF CONTENTS
Slides 15-20: INDEX
Slides 21-24: GLOSSARY
Slides 25-32: GUIDE WORDS
Slides 33-41: HEADING & SUBHEADING
Slide 42: BOLD WORDS
Slide 43: WORDS IN ITALICS
Slides 44-45: BULLET POINTS
Slide 46: HYPERLINK
Slide 47: TEXT BOX
Slides 49-53: PHOTOGRAPH & ILLUSTRATION
Slide 54: CAPTION
Slides 55-57: DIAGRAM & LABELS
Slides 58-59: CLOSE-UP
Slides 60-61: CUTAWAY
Slides 62-63: MAP
Slides 64-66: TIMELINE
Slide 67: CHARTS & GRAPHS
Slides 68-69: TABLE
Slides 70-72: REVIEW
Slides 73-120: Multiple Choice Practice Questions (Students read a multiple choice question. After they have had time to consider an answer, a visual support is presented. Finally, the answer is provided.)
***A 6-page PowerPoint companion handout is also included in this file. Students can follow along and record answers on this handout as you progress through the PowerPoint! The companion handout is available in both printable format or digital format.**
CHECK OUT THE PREVIEW!!
Here's what teachers like you have to say about this PowerPoint:
Kylie M. said, "This PowerPoint covered everything I needed to teach about text features in a way that made sense to my students. I will definitely be using it again next year!"
Brenda B. said, "I found this activity to be very comprehensive. I used this activity during an announced observation and my principal was very impressed how it all came together."
Nicole H. said, "Amazing resource with great visuals to help teach nonfiction text structure. Saved me so much time and made it super simple for our scholars!"
Serendipitous Teaching said, "I've used a LOT of different resources for nonfiction text features but this is by far my absolute favorite one to introduce. I will definitely be using for many years to come. "
You can also click on the following links to check out my related resources:
23 Nonfiction Text Feature Posters (with a follow-up worksheet/ interactive notebook entry!) These posters match the PowerPoint!
Nonfiction Text Feature Foldable
Nonfiction Text Feature Task Cards (free!)
Nonfiction Text Features Assessment (22 multiple choice questions!)
Copyright by Deb Hanson
Please note: You DO have my permission to convert this PPT to Google Slides, and to share it with your students via Google Classroom. (A Google link is not provided, but you ma7 upload the PowerPoint to Google yourself, if you wish.)
Also, the PowerPoint cannot be edited due to the copyright requirements made by the contributing artists (clip art, font, background).
This item is a paid digital download from my TpT store
www.teacherspayteachers.com/Store/Deb-Hanson
This product is to be used by the original downloader only. Copying for more than one teacher is prohibited. This item is also bound by copyright laws. Redistributing, editing, selling, or posting this item (or any part thereof) on an Internet site that is not password protected are all strictly prohibited without first gaining permission from the author. Violations are subject to the penalties of the Digital Millennium Copyright Act. Please contact me if you wish to be granted special permissions!
Total Pages
120 slides and a companion handout
Report this resource to TPT
Standards
to see state-specific standards (only available in the US).
Know and use various text features (e.g., captions, bold print, subheadings, glossaries, indexes, electronic menus, icons) to locate key facts or information in a text efficiently.
Use text features and search tools (e.g., key words, sidebars, hyperlinks) to locate information relevant to a given topic efficiently.