Nonfiction Text Structures With Back to School Activities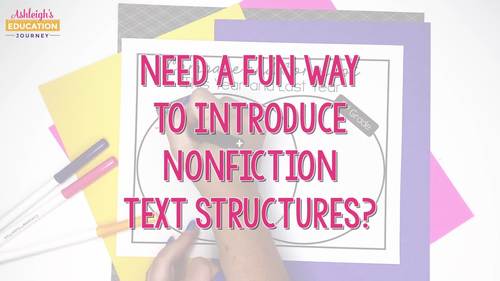 ;
What educators are saying
Thank you for the great resource! It really helped my students better understand the concept, and it was so easy to use!
This resource is great because it includes so many items. It can be set up for students to complete in class. Thank you!
Description
Introduce nonfiction text structures with these back to school activities!
Use back to school lessons to give students step-by-step lessons in how to comprehend and write paragraphs using five different text structures.
Don't wait until the middle of the year!
Let students begin developing their understanding of this tricky skill at the beginning of the year. This resource allows you to review beginning of the year procedures as you introduce nonfiction text structures. While students will likely not master this concept, it will serve as a starting place. Students will then develop a deeper understanding and the ability to apply these writing styles throughout the year.
What's Included
The five lessons in this resource are based on five nonfiction text structures:
compare and contrast
cause and effect
sequential order
description
problem and solution.
In each lesson students receive an easy to follow graphic organizer and a scaffolded paragraph with multiple sentence starters. This will allow students to see the organizational format you will expect, as well as examples of appropriate transition words and grammar. If you feel that your students do not need the scaffolded paragraphs, there is also a version without any additional support.
Yes, this can be used with my reading and writing units!
I plan to teach this mini unit before I begin teaching Reading Unit 1.
Report this resource to TPT