Northern Lights Winter Landscapes | Art Lesson | Google Slides + PDF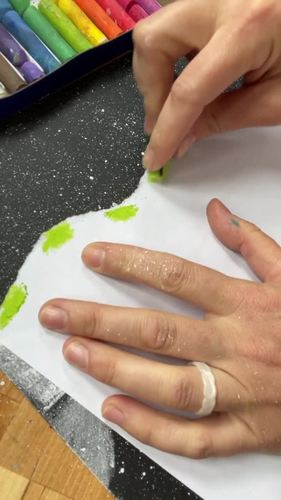 ;
What educators are saying
My students loved creating this artwork! The step-by-step guide was very clear and user friendly and enabled each child to experience success!
What a beautiful project to display! The students loved the individual freedom to create their own landscape. I will use this every year!
Also included in
This growing art lesson bundle provides high-quality, engaging, beautiful art lessons for students in grades k-5. Each lesson provides clear objects, visual art standards, step by step photos and teaching resources to accompany the lesson. Anyone can feel like an artist with these easy to follow art

Price $74.03

Original Price $82.25

Save $8.22

Looking to get through a few lessons with your 3rd, 4th or 5th graders? Look no further! This little mini-bundle will help you do just that. _______________________________________________________________Happy Creating!Don't forget about the green ★ to follow my store to get notifications of new res

Price $21.20

Original Price $26.50

Save $5.30
Description
Looking for the perfect winter art project? Well then I've got y'all covered. This Northern Lights Winter Landscape is not only visually stunning but students of all ages and artistic abilities will create a gorgeous work of art that is sure to be a show stopper!  Your students will learn all about the gorgeous natural phenomenon that is the aurora borealis, and use super fun, engaging and (dare I say MINDBLOWING ) techniques to create their winter landscape. This is also the perfect lesson to connect to science!
In this 26 page PDF, the lesson is broken down into clear and simple steps complete with full color photos demonstrating and explaining each step of the project. This lesson is great for students age 7-12 but really students of all ages (and hey, maybe some adults) can enjoy the fun and engaging process!
The digital pdf for this lesson includes:
Step by step instructions with full color photos
Lesson Objectives
Aurora borealis background information, video link and resource recommendations
Artist background info on Fredrick Edwin Church and his painting titled "Aurora Borealis"
Supplies needed for each project
Vocabulary
Student work examples
Helpful tips & tricks
National Standards
___________
Here is what some buyers have said about this resource:
* * * * * Extremely satisfied
THIS IS THE BEST ART RESOURCE. I love this because it doesn't require students to have elaborate art skills. Everyone creates a great landscape despite their skills. The instructions were super thorough and also included an intro video which was lovely!! - Cindy C.
* * * * * Extremely satisfied
My students loved this project and were engaged throughout. Students were proud to see their artwork displayed and it received rave reviews from other students, teachers, and administrators. - Aida
* * * * * Extremely satisfied
This is the most incredible winter-themed art project we have ever created!!! It's so much fun make...and the results are simply STUNNING! This project is an absolute must! We love everything we've tried from Art With Mrs. E...but this just might be our all-time favorite! - Stacey G.
* * * * * Extremely satisfied
My students really enjoyed this activity. Each step was broken down in a way that allowed students to clearly understand each one. I used this activity during Science class while teaching an Outer Space unit. The activity allowed students who didn't consider themselves "artistic" to produce beautiful pieces of art! They were all so well done, we displayed them in the hallways! - Lynette
___________
Terms & Use:
Please note, in purchasing this resource, you are agreeing that the contents are the property of Kaitlyn Edington and licensed to you only for classroom/personal use. I, Kaitlyn Edington retain the copyright, and reserve all rights to this product.
This lesson is intended for classroom use only and may not claimed or resold as your own.
___________
Don't forget about the green ★ to follow my store to get notifications of new resources and freebies!
For some of my other lessons, check out:
If you're interested in some fun classroom visuals, checkout my Famous Artists Posters and my Elements of Art and Principles of Design posters
For more inspiration and info on new products, be sure to follow me on Instagram at @artwithmrs.e
Report this resource to TPT