Northwest Coast Native Americans Lessons, Activities and Pop Up Book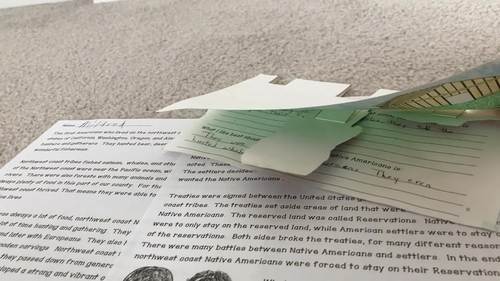 ;
Also included in
Study four Native American Regions: People of the Plains, Eastern Woodlands, Northwest Coast, and Southwest Coast Native Americans with your students. Each unit includes informational texts for a detailed study of four diverse groups of first Americans. Each unit also allows students to create a

Price $12.78

Original Price $19.96

Save $7.18
Description
Study Northwest Coast Native Americans in this unit. This unit has lessons and activities for a detailed study of this group of first Americans. The lessons include close reading selections covering the history of Northwest Coast Native Americans such as Daily life, customs, creating totem poles, and the forced migration of Northwest Coast tribes.
This unit is a great source of informational text. The final activity allows students to create a pop-up book about this group of first people. This unit incorporates both literacy and social studies. A great way to study Northwest Coast Native Americans with your class.
*****************************************************************************
Other Products You May Enjoy
Native Americans: People of the Plains Lessons, Activities and Pop Up Book.
Native Americans: Eastern Woodlands Lessons, Activities, and Pop Up Book.
Native American Bundle: Lessons, Activities, and Pop Up Books.
*****************************************************************************
Customer Tips:
How to get TPT credit to use on future purchases:
• Please go to your My Purchases page (you may need to log in). Beside each purchase, you'll see a Provide Feedback button. Simply click it and you will be taken to a page where you can give a quick rating and leave a short comment for the product. Each time you give feedback, TPT gives you feedback credits that you use to lower the cost of your future purchases. I value your feedback greatly as it helps me determine which products are most valuable for your classroom so I can create more for you. ☺
Be the first to know about my new discounts, freebies, and product launches:
• Look for the green star next to my store logo and click it to become a follower. Voila! You will now receive email updates about this store. ☺
*****************************************************************************
Teaching Duration
2 Weeks
Report this resource to TPT
Standards
to see state-specific standards (only available in the US).
Ask and answer such questions as who, what, where, when, why, and how to demonstrate understanding of key details in a text.
Describe the connection between a series of historical events, scientific ideas or concepts, or steps in technical procedures in a text.
Identify the main purpose of a text, including what the author wants to answer, explain, or describe.
By the end of year, read and comprehend informational texts, including history/social studies, science, and technical texts, in the grades 2–3 text complexity band proficiently, with scaffolding as needed at the high end of the range.
Ask and answer questions to demonstrate understanding of a text, referring explicitly to the text as the basis for the answers.