Noun Centers Parts of Speech Activities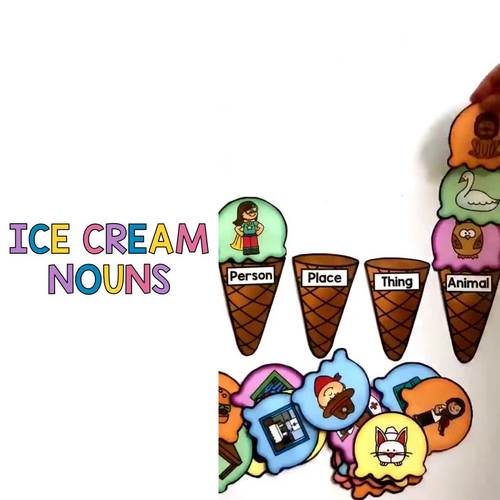 ;
Also included in
These noun centers and verb centers are the perfect way for first grade or second grade students to learn about parts of speech. These activities for learning nouns and verbs are ideal for grammar lessons or literacy centers. 1st grade and 2nd grade students will love these engaging activities for s

Price $7.99

Original Price $10.00

Save $2.01
Description
These noun centers are the perfect way for first grade or second grade students to learn about parts of speech. These activities for learning nouns are ideal for Grammar lessons or Literacy centers. 1st grade and 2nd grade students will love these engaging activities for sorting, reading, and recognizing nouns.
Ice Cream Nouns: Sorting nouns by person, place, thing, or animal.
Popcorn Nouns: Sorting by singular and plural nouns.
French Fry Nouns: Sorting by common and proper nouns.
Clip Card Nouns: Recognizing nouns.
Puzzle Nouns: Sorting nouns by person, place, thing, or animal.
Sort & Write Nouns: Sorting nouns by person, place, thing, or animal and writing sentences with nouns.
Find The Nouns: Reading sentences and finding nouns.
There are 7 centers. Each center comes in 4 colored pages (two of the centers also have an extra black and white worksheet). Each center also comes with a teacher instructions page and students instructions page. These show the centers in action.
This product looks best with color printing and when laminated and cut out.
Pegs/clips are used for the 'Clip Card Nouns' activity. If you don't have pegs, students can just circle the answer with a whiteboard marker.
Whiteboard markers could also be used to circle/underline nouns in the 'Find The Nouns' sentence activity.
Two of the centers come with a black and white worksheet to record answers. The use of these is optional, as students can write answers on any paper or in any workbook.
Once prepped, they can be used over and over for months and years to come!
These centers are hands-on and engaging.
Cute clip art and the food themes make these activities enjoyable for students.
Students will learn all about nouns!
These centers can be used individually by students or in pairs.
They are easy for students to complete alone.
This product is good value and provides 7 centers!
Students aren't just sorting, they are reading and writing too!
Enjoy this resource! Don't forget to follow my store for more awesome products and rate this product for your TPT credits :)
Color by Parts of Speech Grammar Worksheets
Parts of Speech Color by Code (Grammar Worksheets)
Report this resource to TPT
Standards
to see state-specific standards (only available in the US).
Demonstrate command of the conventions of standard English grammar and usage when writing or speaking.
Use common, proper, and possessive nouns.
Use singular and plural nouns with matching verbs in basic sentences (e.g., He hops; We hop).
Produce and expand complete simple and compound declarative, interrogative, imperative, and exclamatory sentences in response to prompts.
Produce, expand, and rearrange complete simple and compound sentences (e.g., The boy watched the movie; The little boy watched the movie; The action movie was watched by the little boy).