Number Line to 100 Boom Cards Great Digital Math Center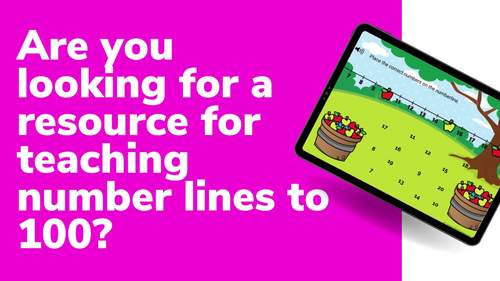 ;
Also included in
Help your students learn the strategy of adding and subtracting by using FUN sets of Boom Cards. Your students will practice and develop different strategies for solving problems that include addition and subtraction .

Price $22.40

Original Price $32.00

Save $9.60
Description
Do your students need help with number lines to 100? This interactive Boom Card deck will help your students find the missing number on the number line. Students will practice adding and counting by 1, 2, and 10 on the number line. Developing a strong foundation of number understanding is crucial.
This Boom Card set is aligned to 
Common Core Standards
CCSS.MATH.CONTENT.1.OA.C.5
Relate counting to addition and subtraction
CCSS.MATH.CONTENT.1.OA.C.6
Use addition and subtraction within 20
Set Includes: 
• 25 Self-Checking Task Cards
Boom Cards are FUN and INTERACTIVE digital task cards. They can be used in whole group, small group, or centers/stations. You can even assign it has homework. Your students are going to LOVE it!!
Do I have to prep anything?
No more printing, cutting, and laminating cards. Just assign a Boom Card deck to your students and they do the rest.
What type of device can I use?
They can be viewed on digital devices such as interactive whiteboards, desktops, laptops, netbooks, Chromebooks, iPads, iPhones, Android tablets and phones, and Kindle-Fire tablets.
Do I have to purchase a membership?
No. From Boom Learning: "With your Teachers Pay Teachers purchase, users new to Boom Learning get a three-month free trial of student progress reporting for up to 150 students. Your trial includes the ability to make up to 5 free DIY decks. You may upgrade or cancel at any time. When you redeem your purchase, Boom Learning opens an account for you if you do not already have one. If you do not subscribe at the end of your trial, you will be able to continue using Boom Cards with the Fast Play feature. Fast Play does not track individual progress."
Can I track data?
Yes, you will be able to track data. The data tracking tool shows you the overall accuracy and speed of an individual's progress. Please note that you will need to have a membership to track data.

Related Products
• 120 Chart Fill in Missing Numbers Digital Boom Task Cards
• Add Apples to 10 Digital Boom Task Cards
• Add Apples with Ten Frames to 20 Digital Boom Task Cards
• Add Subtract True or False Digital Boom Task Cards
• Adding Die Boom Cards Digital Dice Game
• Addition Within 20 Boom Cards Lilly's Lemonade Stand
• Addition and Subtraction Word Problems Digital Boom Task Cards
• Apple Number Line to 100 Boom Cards
• Base Ten Expanded Form Digital Boom Task Cards
❤️ Follow me! ❤️
Look for the green star next to my TpT store logo and click it to become a follower. This will let you know about my sales, discounts, freebies and new products!
Customer Tips: How to get TPT credit to use on future purchases: *Please go to your My Purchases page. Beside each purchase you'll see a Provide Feedback button. Click Provide Feedback and it will take you to a page where you can give a quick rating and leave a short comment for the product. Each time you give feedback, TPT gives you feedback credits. You can use these credits to have a discount on future purchases.
Report this resource to TPT
Standards
to see state-specific standards (only available in the US).
Count forward beginning from a given number within the known sequence (instead of having to begin at 1).
Relate counting to addition and subtraction (e.g., by counting on 2 to add 2).
Add and subtract within 20, demonstrating fluency for addition and subtraction within 10. Use strategies such as counting on; making ten (e.g., 8 + 6 = 8 + 2 + 4 = 10 + 4 = 14); decomposing a number leading to a ten (e.g., 13 - 4 = 13 - 3 - 1 = 10 - 1 = 9); using the relationship between addition and subtraction (e.g., knowing that 8 + 4 = 12, one knows 12 - 8 = 4); and creating equivalent but easier or known sums (e.g., adding 6 + 7 by creating the known equivalent 6 + 6 + 1 = 12 + 1 = 13).