Number of the Day Template for Hundreds and Thousands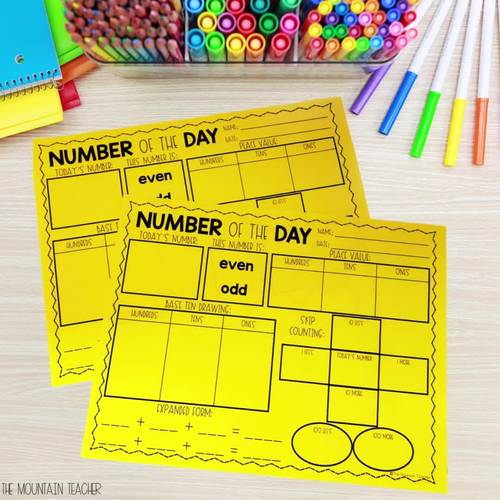 ;
What educators are saying
I use this resource in our morning work folder and it at the perfect level for my students and covers all that we are working on with number sense in an easy to understand layout.
I give my students a number of the day on the board each morning. They complete this activity with the number. It's a great review!
Description
Searching for a daily place value warm up routine? Number of the day is your answer. This printable worksheet or poster is the perfect template to get students practicing: writing the digits, breaking it into hundreds, tens and ones, writing the number in expanded form, identifying the value of each digit, and mentally add/subtracting 1, 10 and 100 from the numbers.
This is meant to be used with 3 digit or 4 digit numbers, but could easily be adapted for 2 digit numbers.
Skills Covered:
Writing digits
Breaking 3-digit numbers into hundreds, tens and ones
Writing numbers in expanded form
Identifying the value of each digit
Mentally add/subtracting 1, 10 and 100 from 3 digit numbers
Ideas for Use: I use this as a daily warm up during my place value unit. This is an independent activity that could also be used as a small group review, or independent center as well.
You May Also Like:
You can also connect with me for first access to my resources, giveaways and FREEBIES via: Email | Website | Instagram | Facebook | Teachers Pay Teachers
Enjoy! Don't forget to leave feedback on all paid purchases for future credit toward free resources.
Report this resource to TPT