Numbers to 20 Activities - MEGA PACK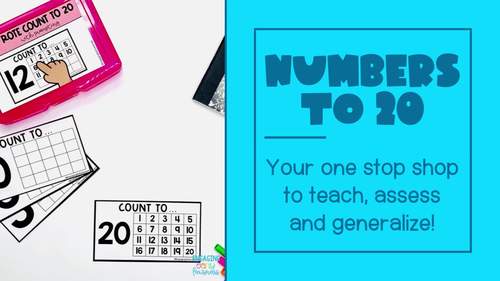 ;
What educators are saying
My kids loved using this resource during small group time! A great resource to use with my ECSE kiddos!!
I love this! My students love when I take this out! It is engaging and they have fun doing the activities! I can wait for more of these that align with the goals!
Also included in
Are you looking for a ONE STOP SHOP of materials and data sheets to work on your student's IEP goals?? I have EVERYTHING YOU NEED right here!!Task Boxes, File Folders & Worksheets are ALL included in this MEGA BUNDLE. I included all of the activities needed to simply TEACH, ASSESS and GENERALIZE

Price $121.95

Original Price $135.50

Save $13.55
Description
Are your students working on NUMBERS TO 20 goals? Are you looking for a ONE STOP SHOP for all of the activities needed to simple TEACH and ASSESS those goals?! This product has you covered!
With over 90 activities, worksheets, file folder games, task boxes,and more - this product is the perfect resource to help you teach, generalize and assess all of your students' numbers to 20 goals.
There are multiple activities for each skill so that you can ensure that your students have the skills.
? Generalization is the ability for a student to perform a skill under different conditions, the ability to apply a skill in a different way, and to continue to exhibit that skill over time (maintenance). Often students can generalize skills both in the conditions under which they demonstrate the skill, and in their responses. Some students however have a greater level of difficulty demonstrating a skill in situations other than the situation that the skill was originally taught. By teaching students to apply learned skills in a wide variety of environments, with various people and varying materials, students can increase their level of independence and flexibility.
Goals Made Easy Products SO FAR:
Over 90 activities working on the following skills:
Rote counting - 2 task boxes
1:1 counting to 20 - 2 file folders, 3 task boxes, 4 worksheets
Matching numbers to 20 - 3 file folders, 3 task boxes, 4 worksheets
Identifying numbers to 20 - 3 file folders, 2 task boxes, 7 worksheets
Labeling numbers to 20 - 3 file folders, 2 task boxes, 7 worksheets
Ordering numbers to 20 - 3 file folders, 3 task boxes, 6 worksheets
Counting out objects - 4 file folders, 2 task boxes, 4 worksheets
Comparing numbers to 20 - 3 file folders, 2 task boxes, 2 worksheets
Writing numbers to 20 - 5 file folders, 3 task boxes, 9 worksheets
Tips for use
Printing/prepping tips
Video tutorial for prepping file folders
Labels for any binder or bin you use to store these materials
Example goals to use in student's IEPs
This pack directly aligns with my Numbers to 20 Data Sheets For Preschool Special Education!!!
OR
Get the data sheets for **FREE** in the Preschool Basic Skills MEGA BUNDLE!!
Teachers who are working with students who have goals related to numbers to 20 in the following areas…
Rote counting
1:1 counting to 20
Matching numbers to 20
Identifying numbers to 20
Labeling numbers to 20
Ordering numbers to 20
Counting out objects
Comparing numbers to 20
Writing numbers to 20
"Where to even start?! This product is amazing!  As I'm looking through the content included & planning for the year, there is easily enough activities in here for an entire month, probably even two! The low prep activities are extremely detailed but also fun for the students (incorporates donuts, colors that are eye appealing and fun to hold student attention). There is a nice combination of file folders, task boxes & black/white printables (print on astrobright paper for some pop). With the wide range of skills targeted (rote counting, 1:1, marching, identifying, labeling, ordering, counting out objects, comparing, and writing numbers), there is also room for differentiation within each Activity  and is super user friendly for students who might be using an AAC device. I also really appreciate the labels for activities with a preview of what the student should do for that activity as well as written  directions for the activity. This makes it easy for a support staff to run the activity too. I can't wait to print & prep for my students this year!"
--Becca
---------------------------------------------------------------------------------------------
⭐GAIN ACCESS TO OVER 100 FREE RESOURCES HERE ⭐
Other resources you will ♥️ :
✨ Word Problems to 20, 50 & 100 BOOM Cards Google Slides Distance Learning *BUNDLE
✨Number Bond Math Activity | Number Bonds to 20 | BOOM CARDS | Distance Learning
✨Number Patterns | Skip Counting Patterns | Digital BOOM Deck | Distance Learning
---------------------------------------------------------------------------------------------
CUSTOMER TIPS:
FREE money (TpT credits) for leaving feedback:
Go to your 'My Purchases' page. Next to each purchase you'll see a 'Provide Feedback' button. Each time you give feedback on paid purchases, TPT gives you credits that you use on your future purchases (AKA reduced or even free products!).
What's the green ★ for?:
Click the green star to become a follower. You'll be the first to know about freebies, sales, and new products. 
---------------------------------------------------------------------------------------------
⭐ Let's Connect! ⭐
Report this resource to TPT