Numbers to 20/Teen Numbers Bundle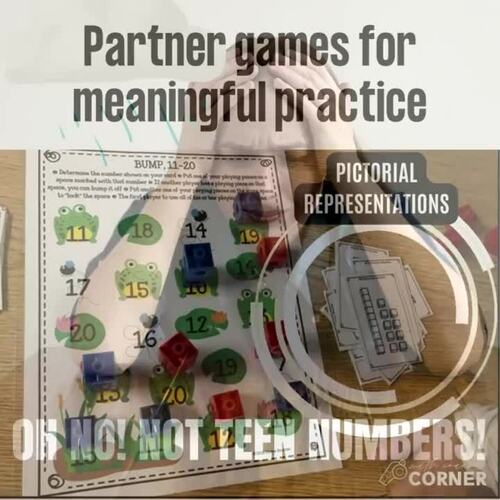 ;
What educators are saying
So many great games to choose from! They work great in my Math bins and provide the students with lots of practice of previously taught skills.
This resource was great to place in my Math Rotations. Students were able to continue to practice a skill that was taught previously.
Products in this Bundle (4)
Description
This bundle contains 4 of my most popular math resources for helping your Kindergarten and 1st-grade students read, write, recognize, and compare numbers to twenty and understand the meaning of teen numbers. These activities can be easily incorporated into your daily warm-up routine, small group instruction, whole group instruction, or math centers. Grab it for back-to-school and use it all year long!
BE SURE TO VIEW THE PREVIEWS OF ALL OF THE RESOURCES!
WHAT TEACHERS ARE SAYING...
⭐⭐⭐⭐⭐ "So many fun ways to engage children in meaningful number sense activities! Thanks!" Abigail W.
⭐⭐⭐⭐⭐ "Solid practice that those little fingers need to write their numbers legibly." Beth A.
⭐⭐⭐⭐⭐ "Discovered my firsties didn't understand the teen numbers—all the different representations of the numbers make this a must-have resource!" Erica V.
⏩⏩⏩⏩ Be sure to Leave a Review in "Your Purchases" on your dashboard to earn free credits good toward the purchase of future products!

YOU MIGHT ALSO LIKE…
✅First Grade Number and Operations in Base Ten
✅Make a Ten (Making Ten) Addition Strategy Game Bundle
✅Subitizing and Number Combinations Bundle: Print and Digital

CONNECT WITH MATH COACH'S CORNER
Be sure to follow my TpT store by clicking on 'Follow Me' next to my Seller picture to receive notifications of new products and upcoming sales. Visit my blog for K-5 math tips and freebies you can use tomorrow in your classroom. You can also find me on Facebook and Twitter.
TERMS OF USE
Copyright © Math Coach's Corner.
For personal and single-classroom use only.
To share this resource with friends or colleagues, please purchase additional licenses.
Teaching Duration
Lifelong tool
Report this resource to TPT
Standards
to see state-specific standards (only available in the US).
Write numbers from 0 to 20. Represent a number of objects with a written numeral 0-20 (with 0 representing a count of no objects).
Identify whether the number of objects in one group is greater than, less than, or equal to the number of objects in another group, e.g., by using matching and counting strategies.
Compare two numbers between 1 and 10 presented as written numerals.
Compose and decompose numbers from 11 to 19 into ten ones and some further ones, e.g., by using objects or drawings, and record each composition or decomposition by a drawing or equation (e.g., 18 = 10 + 8); understand that these numbers are composed of ten ones and one, two, three, four, five, six, seven, eight, or nine ones.