Nutcracker Music Activities: Visuals and Activities for the Music Room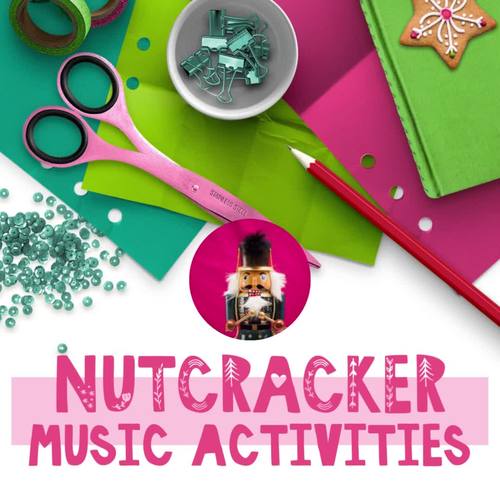 ;
What educators are saying
My students loved using these resources! It made it fun for them to learn about the music from the Nutcracker.
Thank you for a great set of Nutcracker activities. This is one of my favorite pieces to learn about in December and the activities in here made lesson planning so easy.
Description
Are you looking for visuals and activities to teach Tchaikovsky's "The Nutcracker" in your music lessons? This comprehensive set is full of ideas and activities to help you teach a Nutcracker unit, during December, or during any other time of the year!
Save time and overwhelm by purchasing this set. Simply print the resources, gather materials, and get ready to have fun learning the Nutcracker!
This set includes:
"Follow Me" beat activity to the Nutcracker Overture: appropriate for grades K-1
Nutcracker beat visuals for beat-tracking, appropriate for grades K-1 (comes in color and in black/white)
Nutcracker movement activity: 25 printable color nutcracker sheets with movement directions, 25 printable black and white nutcracker sheets with movement directions, Google Slides with embedded video for the overture, appropriate for grades 1-5
Story visuals: Students arrange the order of the pictures in order of the story.
"March" form activity: Students work individually or in small groups to arrange A, A', and B cards for the form of the March from the Nutcracker, appropriate for grades 3 and above
Rhythmic ostinato activity and flashcards: Includes directions for reading flashcards as an ostinato to specific pieces from the Nutcracker. Rhythmic concepts include ta and ti-ti, quarter rest, tika-tika, half note, ti-tika, tika-ti, syncopa, tim-ka, tam-ti
"Dance of the Sugar Plum Fairy" listening lesson slideshow: Has students read the rhythm of the theme and move creatively for the other sections. Great for students who are familiar with ta, ti-ti, rest, and 4/4. Comes in PowerPoint and Google Slides.
Worksheet with information about Tchaikovsky and the Nutcracker: students answer questions from the reading. Appropriate for grades 2 and above.
"Nutcracker" slideshow: Summarizes story of the Nutcracker accompanied by fun visuals and links to You Tube videos of the ballet for these pieces: March/ Gallop of the Children, Waltz of the Snowflakes, Spanish Dance, Arabian Dance, Chinese Dance, Russian Dance, Dance of the Reed Flutes, Waltz of the Flowers, Dance of the Sugar Plum Fairy, and Final Waltz. Please note, you will need access to You Tube in order for the links to work. Appropriate for grades 1 and above.
Bulletin board visuals including "Did you know" cards, Nutcracker letters, Picture of Tchaikovsky, Pictures with definitions of composer, conductor, and musician, Cards with titles of most popular pieces from the Nutcracker
FREQUENTLY ASKED QUESTIONS
Question: What technology is needed for this set?
Answer: An interactive white board or LCD projector would be needed for the slideshows, and a CD player or mp3 player would be needed to play the recordings.
Question: Are the recordings included?
Answer: Due to copyright, I could not include the recordings. Any recordings of "The Nutcracker" would work.
READ REVIEWS FROM OTHER MUSIC EDUCATORS!
⭐️⭐️⭐️⭐️⭐️ "Fabulous unit as always. You can depend on Aileen to give thoughtful, systematic teaching that really impacts student learning!"
⭐️⭐️⭐️⭐️⭐️ "The activities were great. The abbreviated story was perfect for the length of our classes, along with very convenient links to the music examples! Thank you!"
⭐️⭐️⭐️⭐️⭐️ "These made my lesson planning MUCH easier! Everything is right there ready for you to use!"
Looking for even more visuals and activities for the Nutcracker? Check out my More Visuals and Activities for the Nutcracker Set.
Looking for other winter activities? Check out these sets:
Songs and Activities for Winter
Musical Activities for the Winter Games
Follow me for freebies and updates. Please email  me with any questions or concerns at mrsmiraclesmusicroom@gmail.com.
Copyright © Aileen Miracle/ Mrs. Miracle's Music Room.
Permission to copy for single classroom use only.
Please purchase additional licenses if you intend to share this product.
Teaching Duration
1 month
Report this resource to TPT