Nutrition Lessons: TPT's #1 Best-Selling High School Health Nutrition Unit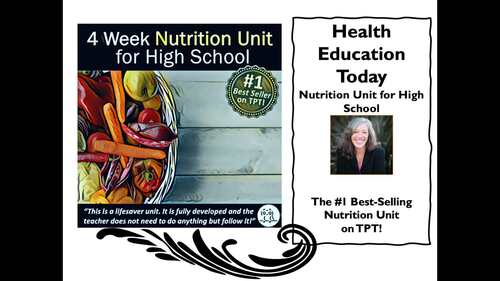 ;
9

th

- 12

th
,
Higher Education
,
Adult Education
,
Homeschool
Zip

Google Apps™
Includes Google Apps™
The Teacher-Author indicated this resource includes assets from Google Workspace (e.g. docs, slides, etc.).
Easel Activity Included
This resource includes a ready-to-use interactive activity students can complete on any device. 
Easel by TPT is free to use!
Learn more
.
Also included in
★★★★★ This "High School Health" program is an editable Word and PowerPoint "For Print" curriculum AND files are also "Online" on Google Drive!➡️ This resource is the #1 Best-Selling High School Health Curriculum" on TPT!☑️ Highlights of This Health Resource:This program strives to give teens the tools

Price $425.00

Original Price $536.00

Save $111.00

★★★★★ This full year P.E. includes 10 inside and 10 outside Physical Education Units and more! Lesson plans develop physical literacy, motor skills, increase knowledge, incorporate physical fitness, teach sportsmanship, and empower students to choose life-long physical activity!➡️ This resource is t

Price $270.00

Original Price $324.00

Save $54.00
Description
★★★★★ This 4-week Nutrition Unit will empower your high school students with the knowledge and skills to make healthy nutritional choices! Students will be reading food labels, understanding nutrients, measuring sugar and fat in products, calculating the difference exercise can make, understand the dangers of eating disorders, work on good self-esteem, analyze habits, and so much more!
➡️ This resource is taken from the #1 Best-Selling High School Health Curriculum" on TPT!
☑️
Students LOVE this unit because it's personalized to them! They will use formulas to figure out how many of each nutrient THEY need to eat per day (see the bullets below.) And they really like all the personal surveys!!
449-slide Nutrition PowerPoint that walks you through the lessons!
All new PowerPoint backgrounds and tons of new photos and graphics. (Now uploaded to Google Slides!)
247 pages of step-by-step teacher directions that follow the PowerPoint slides and tell you what to say
4 additional PowerPoints on "Obesity," "Models Without Their Make-Up," "Portion Sizes," and "Body Image."
38 video links all set in one spreadsheet and with suggested lesson days
A 6-page "Nutrition Packet" that students fill out as you go over the PowerPoint (This is on Google Slides with fill-in text boxes!)
"Nutrition Packet" for student notes and "Nutrition Packet Key"
☑️
This is an editable "For Print" curriculum created in Word and PowerPoint.
I just finished an amazing update. There are now all-new photos AND on all High School Nutrition PowerPoints! As one buyer said, "Best unit I've ever used!"
Step -by-step Teacher Directions walk you through each lesson! The numbered directions match PowerPoint slide #'s to walk you through lessons!
! All "Teacher Directions," "Student Worksheets" and unit PowerPoints are editable for print AND online on .
Includes 142+ high school nutrition student worksheets, surveys, and tests created on Google Slides ! And PowerPoints are now on Google Slides too!
! Simply my "Student Docs Google Slideshow" (which includes fill-in text boxes) to your computer (Yes- text boxes remain intact!) and !
Includes a I created to show you not only ; but also how to use the Google Slideshows, how Microsoft users can use my Google Slideshows, how to send only one day's lessons to your students, how to add new information/pages to a Google Slideshow, how to edit and upload worksheets, how to voice-over slides, and more!
: Lessons are all kid-tested, revised, edited, and have been deemed "a fun unit" by the high standards of my many 14 year old students!
: NEWLY UPDATED STATISTICS, ARTICLES AND VIDEO LINKS
☑️ :
"This is a lifesaver unit because it is fully developed and the teacher does not need to do anything but follow it."
"This is amazing and I can't wait to purchase the FULL semester Health!!! This is any teacher's DREAM!!! Everything you could ever want from an experienced teacher! AMAZING!!!!!"
"VERY thorough, activities are engaging and the students LOVED it! Great resource!"
"Awesome unit! I purchased the entire Health semester as a result. Thanks!!!"
"My students loved using this resource!" "Our health class was much more engaging thanks to you!"
☑️ :
14 Washington State Health Standards (It's very likely to meet your state standards as well
12 of 20 Common Core Standards (Writing 2, 4, 9, 10 | Reading 1, 2, 3, 4, 5, 6, 8, 9)
44 of 46 National Health Standards Indicators
☑️
This is the on the whole TeachersPayTeachers website!
Will this program be easy to teach? Yes! It's not just a unit outline. 247 pages of highly organized step-by-step teacher directions follow 6 PowerPoints, and the directions suggest just what to say and do!
Is this program researched-based? Yes, in this curriculum you will find health goals and behavioral outcomes that are research-based and theory-driven. Statistics, articles and videos are updated frequently.
Should I buy this program or one created by a curriculum company? Why buy lessons designed by people who've possibly never taught in a classroom when you can get lessons from a teacher with a National Board Certification in Health and 19 years of experience teaching 9th grade Health? This curriculum is fun, interactive, and has engaging lessons, and it's amazingly more affordable than ones created by publishing companies!
Will the lessons be effective for my students? Yes! It's been "teacher and kid tested." I've taught this Nutrition Unit and revised it, taught it again, perfected it, and improved it.
What if I need to change a lesson? No problem! Documents and PowerPoints are editable and docs are included in both Word and PDF formats.
Will my students like this program? Students love this program, and students who like what they're learning are more likely to choose to actually use what they learned outside the classroom.
It's perfect for any 6th through 12th grader, and is also included in Word and PDF for easy editing! Personally, I feel this is one of my best units!
☑️ !! All new lessons, activities, and any changes that I create for this unit are FREE! Simply go to your "My Purchases" folder and download anytime!
☑️ :
Top Heading for each lesson with State, National and Common Core standards met; Exit Tasks; Learning Targets; and Assessments
Learning Target Posters and "Success Criteria" Worksheets
Table of Content Links ALL daily lessons for quick navigation!
Updated statistics throughout!
142+ worksheets/activities that go with the lessons! (These are on Google Slides with fill-in text boxes!)
☑️ Here are of the worksheets:
MyPlate Worksheets
Nutrition Board Game
Nutrition Test
Personal Health Assessment
Fat and Sugar Experiment
Trends in Health Newsletters
Why Water is Wonderful
Interactive Food Label
Food Label Scavenger Hunt
Food Label Scramble
Grocery Store Scavenger Hunt
Good Proteins
GMOs
FITT Plan Worksheets
Exercise Worksheet
Figuring Heart Rate
Counting Calories
Energy Drinks
Family Medical History
Full "Measuring Body Fat" Lesson.
Exercise video and review sheet.
Food Label Quiz"-Give this before and after your unit, it's perfect for meeting evaluation student improvement goals!
"7 Side Effects of Drinking Diet Soda, and Energy Drinks" articles
AND SO MUCH MORE!!...
☑️ :
Day 1: INTRODUCTION, OBESITY, AND CALORIES
- Understanding obesity and why so many Americans are overweight.
- Unhealthy habits: sugar, fat, fast food, portion sizes, lack of exercise, media...
- Understanding calories
- Set Point Theory
- Portion sizes compared to 1950's
Day 2: CALORIES, FAT AND FAST FOOD RESTAURANTS
- Understanding how calories relate to weight loss or gain.
♦Formula- How many calories do I need per day?
- Good fats -vs- bad fats. (Trans and Saturated Fats)
♦Formula- How many fat grams should I eat per day?
- Fast food restaurants: Analyzing calories and fat.
-Are there any healthy choices for me at fast food restaurants?
Day 3: CHOLESTEROL, CARBOHYDRATES, AND DIABETES
- What is cholesterol?
♦Formula- How much cholesterol do I need?
- Carbohydrates: the good (whole grains) and the bad (sugar and white flour)
- Understanding Diabetes
♦Formula- How many carbohydrates do I need per day?
♦Formula- What should my limit on sugar be per day?
- Food container deception!
Day 4: MORE ON CARBOHYDRATES
- Analyzing food labels to know if a product is "healthy"
- "Fat and Sugar Experiment Lesson": Measure Crisco and sugar into baggies! Fun!
- Reflection to personalize!
- Better choices!
-"Fat and Sugar Homework"
Day 5: BREAKFAST, VITAMINS, EATING FROM FOOD GROUPS
- The MAYO Clinic Food Guide Pyramid
- The USDA MyPlate Program
- Personal food records tally
- The importance of water!
- "Extra Credit -Drinking Water"
- Why eating balanced is important, and knowing if a typical day of meals for me meet the healthy standards?
Day 6: MEDIA LITERACY READING FOOD LABELS
- Media literacy and grocery store manipulation
- "Food Label Reading Worksheet" and activity ★
- "Interactive Food Label Activity"
- Food label reading video
Day 7: FOOD LABEL SCAVENGER HUNTS
- "Food Label Scavenger Hunt" (NEW!! Now on Google Drive to save paper!) (see note below)
- "Food Label Scramble"
- Both of these activities have students walking around the room reading food labels
Day 8: IRON, PROTEIN, SODIUM, FOOD RECORDS
♦Formula- Protein: How much do I need?
- What does protein do for the body?
- Should I take a protein supplement?
- "Building Muscle Brochure"
♦Formula- Iron, sodium, and sodium: Their importance and how much do I need of each?
Day 9 AND 10: CALCIUM, DANGER OF ENERGY DRINKS
-The importance of calcium for teens
♦Formula- "'How Much Calcium do I Need Daily?' Worksheet"
- "The Dangers of Energy Drinks" Activity
- "Athletes and Energy Drinks" article
- "7 Side Effects of Drinking Soda"
- Energy drink dangers videos
Day 11: CANCER, FAMILY MEDICAL HISTORY, EXERCISE
- Understanding Cancer
- Cancer warning signs"
- "Dear 16-Year Old Me" Video
- "Family Medical History Homework"
- Why is exercise important?
- Exercise video and review sheet
- How many calories will I burn during different types of exercise?
- MyFitnessPal
- FITT Plans
- Longevity and goal setting
- Optional "Measuring Body Fat" Activity/Homework
Day 12: EATING HEALTHY FOR LIFE!
-"Eating Healthy for Life Survey" and goal-setting
- Habits, the brain, and eating
-Healthy versus unhealthy weight loss
-Weight loss videos
Day 13: UNHEALTHY EATING AND EATING DISORDERS
- Understanding eating disorders
- "Eating Disorders Self-Survey"
- "Emotions and Eating Survey"
- Understanding the symptoms of anorexia and bulimia.
- Eating disorders videos
Day 14: BODY IMAGE, NUTRITION UNIT TEST REVIEW
- The importance of positive body image
- Analyzing media's false messages
- Improving body image videos
- "Body Image Brochure"
- "Real Models Without Their Make-Up Presentation!"
- "Love What's Good, Change What You Could" Activity
- Cube art project
- Review for unit assessment
Day 15: ANALYZING FAD DIETS, NUTRITION GAME REVIEW
- "Is This Diet Healthy?" Lesson with PowerPoint and student share out
- 16 diets to print and use
- Why many diets DON'T work
- Why a diet needs to be a "diet for life"
- Unhealthy habits and how to successfully lose or gain weight.
- "Are You Eating Healthy Survey"
Day 16: NUTRITION TEST
- Nutrition Unit assessment
- Optional videos
- "Health and Fitness Career" research and assignment
Day 17: PERSONAL HEALTH HABITS
- "Where is Your Health?" personal food habits survey with 60 questions!
- Acronym art activity
- Personal Health Assessment
Day 18: EAT THIS OR THAT? ACTIVITY
- "Eat This Not That" Activity
- A fun way for students to see what they've learned
Day 19 AND 20: G.M.O.S-GENETICALLY MODIFIED ORGANISMS
- G.M.O.s group research
- G.M.O. videos
- Quiz and correct
- Group debates!
****************************************************************
★THIS LESSON AND ALL ITS MATERIALS ARE INCLUDED IN MY "FULL YEAR HEALTH CURRICULUM" and my "FULL YEAR P.E. CURRICULUM."
★Here are links to my Full-Year Health Curriculums:
★ Here are my 1 to 4-Week Health Units:
Environmental and Community Unit
Diversity and "Celebrating My Identity" Unit
Best Beginning of a School Year Ever
★ Here are my :
____________________________________________
Copyright © Health Education Today, Inc. All rights reserved by author.
*Each purchase is for single teacher use only, and .
*Additional license for other teachers to buy this product are discounted if done during original purchase (Click the license button during purchase). (SAVE $$$)
The purchaser is granted permission to make duplicates for classroom use only. Redistributing, editing, selling, or posting this item (or any part thereof) on the Internet are all strictly prohibited unless it is a password-protected student website. Violations are subject to penalties of the Digital Millennium Copyright Act.
Thank you so much for previewing!
Mrs. S.'s Health and P.E. Resources
Health Education Today, Inc.
Teaching Duration
3 Weeks
Report this resource to TPT
Standards
to see state-specific standards (only available in the US).
Write informative/explanatory texts to examine and convey complex ideas, concepts, and information clearly and accurately through the effective selection, organization, and analysis of content.
Produce clear and coherent writing in which the development, organization, and style are appropriate to task, purpose, and audience.
Draw evidence from literary or informational texts to support analysis, reflection, and research.
Write routinely over extended time frames (time for research, reflection, and revision) and shorter time frames (a single sitting or a day or two) for a range of tasks, purposes, and audiences.
Cite specific textual evidence to support analysis of science and technical texts, attending to the precise details of explanations or descriptions.