OPEN AN ICE CREAM SHOP | PROJECT BASED LEARNING MATH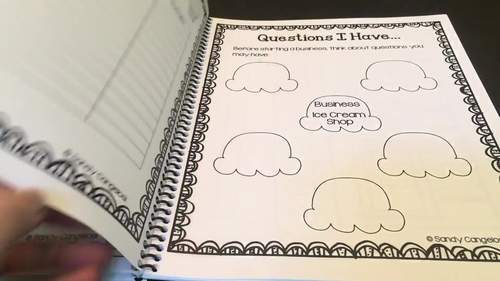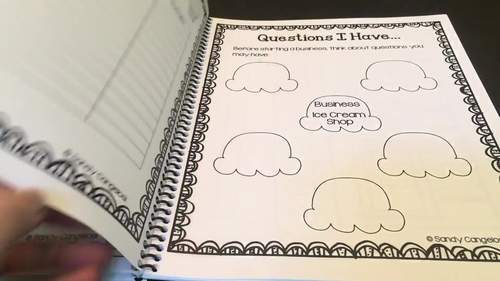 Created By
Sweet Integrations
Also included in:
This Project Based Learning bundle includes 10 different units to use throughout the whole year. These PBL units incorporate 21st Century skills with challenging, engaging, and creative activities. There are lots of opportunities for differentiation and technology integration.(Please click on the li

PROJECT BASED LEARNING (PBL): ECONOMICS BUNDLE : With this pbl ideas bundle, students learn about entrepreneurship, and economics. These student-centered PBL units incorporate collaboration and differentiation by providing student choice. The real-world challenges require students to use inquiry, cr
Product Description

Standards
(TPT FEATURED PRODUCT) Everyone loves ice cream! As your students open their own ice cream shop, they also learn about the history of ice cream, entrepreneurship, and economics. This student-centered project based learning math unit incorporates collaboration and differentiation by providing student choice. This OPEN AN ICE CREAM SHOP real-world challenge requires students to use inquiry, critical thinking, and their creative minds during the high-interest cross-curricular activities [math, social studies, ELA]. Students integrate digital learning into the project based learning unit as they investigate and complete their final product.
This ICE CREAM SHOP PBL unit incorporates 21st Century skills with challenging, engaging, and creative activities.
Students have an opportunity to create their own menu, make their favorite flavor and more. This project can be done collaboratively as a group or as an independent study.
Click HERE for a video preview.
Feedback from a Customer
"This has been my favorite purchase year-to-date. I had to stay behind with students who couldn't go on a field trip, and they didn't feel left out at all. I used it to reinforce close reading skills, context clues, decimal work and research skills. On the last day, we held an ice cream social and presented our projects."
***Teachers, if you want to go digital with this project with collaborative research and organizing the project, take a look at my Project Based Learning Digital Interactive Notebook
In this Unit:
- Learn about the history of ice cream, different shops and creameries. (websites and apps)
- Photos of visit to Amy's Ice Cream
- Take a survey to learn about favorite ice cream flavors. Graph results
- Create questions for business survey. Record results
- Questions about starting an ice cream shop
- Choose a name, logo and slogan for your Ice Cream Shop.
- Design a store front (use my template or design your own)
- Create your own business plan (company overview)
- Interview an owner or manager of an ice cream shop.
- Create a new flavor of ice cream and describe it.
- Create a new ice cream sundae.
- Design an flyer to advertise your shop. (This can be done on the computer or on a blank sheet of paper.) Make sure to include important info about your shop.
- Design business cards
- Create coupons for your ice cream shop.
- Plan a menu for your ice cream shop. – Students can even create their own design after using this template as a rough draft.
- Inventory (choice of using a spreadsheet)
- Plan social media for your ice cream shop
- Ice Cream recipes
- Use a spreadsheet to take orders.
- Additional ideas
- Build a Sundae Game
Please continue to visit my store for more project based learning units.
>>>If you are interested in sharing photos in action, please email me at sweetintegrations@gmail.com. In return, you'll receive a FREE product.<<<
**Note: Activities can easily be adapted for enrichment or gifted students in other grade levels.
Project Based Learning Growing Bundle
Project Based Learning Essential Elements Posters
PBL Digital Teacher Planner Google Slides™
Economics/Math
Environment/U.S./Social Issues
Plan a Community for the Homeless
Visit Sweet Integrations for more ideas for your classroom!

Let's connect:
Sweet Integrations on Facebook
Sweet Integrations on Instagram
Sweet Integrations on Pinterest
*******************************************************************
Log in
to see state-specific standards (only available in the US).
Use appropriate tools strategically. Mathematically proficient students consider the available tools when solving a mathematical problem. These tools might include pencil and paper, concrete models, a ruler, a protractor, a calculator, a spreadsheet, a computer algebra system, a statistical package, or dynamic geometry software. Proficient students are sufficiently familiar with tools appropriate for their grade or course to make sound decisions about when each of these tools might be helpful, recognizing both the insight to be gained and their limitations. For example, mathematically proficient high school students analyze graphs of functions and solutions generated using a graphing calculator. They detect possible errors by strategically using estimation and other mathematical knowledge. When making mathematical models, they know that technology can enable them to visualize the results of varying assumptions, explore consequences, and compare predictions with data. Mathematically proficient students at various grade levels are able to identify relevant external mathematical resources, such as digital content located on a website, and use them to pose or solve problems. They are able to use technological tools to explore and deepen their understanding of concepts.
Model with mathematics. Mathematically proficient students can apply the mathematics they know to solve problems arising in everyday life, society, and the workplace. In early grades, this might be as simple as writing an addition equation to describe a situation. In middle grades, a student might apply proportional reasoning to plan a school event or analyze a problem in the community. By high school, a student might use geometry to solve a design problem or use a function to describe how one quantity of interest depends on another. Mathematically proficient students who can apply what they know are comfortable making assumptions and approximations to simplify a complicated situation, realizing that these may need revision later. They are able to identify important quantities in a practical situation and map their relationships using such tools as diagrams, two-way tables, graphs, flowcharts and formulas. They can analyze those relationships mathematically to draw conclusions. They routinely interpret their mathematical results in the context of the situation and reflect on whether the results make sense, possibly improving the model if it has not served its purpose.
Multiply a whole number of up to four digits by a one-digit whole number, and multiply two two-digit numbers, using strategies based on place value and the properties of operations. Illustrate and explain the calculation by using equations, rectangular arrays, and/or area models.
Fluently add and subtract multi-digit whole numbers using the standard algorithm.
Report this Resource to TpT