One Quadrant Coordinate Plane Poster - Math Classroom Decor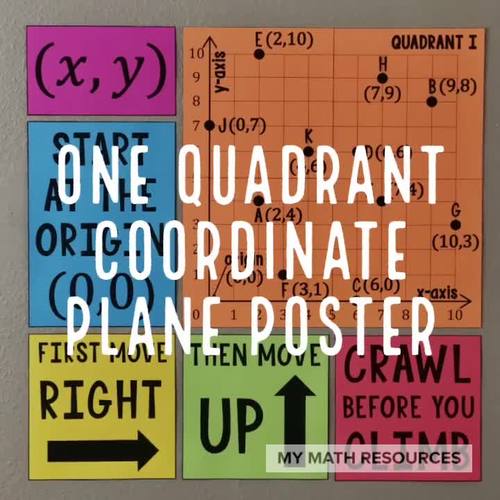 ;
What educators are saying
The materials were easy to print and produced a wonderful, informative anchor for students to refer back to when completing their coordinate activities.
Great visual resource for students to see one the wall and be able to refer to easily and color-coded makes it pop on my walls.
Also included in
Decorate your entire math classroom with my complete bundle of bulletin board posters. They're better than any math posters you have ever seen! Most math classroom posters are hard to read from the desks. Your students can't even read them unless they're out of their seats and standing next to th

Price $107.97

Original Price $215.93

Save $107.96

Decorate your entire fifth grade math classroom with this bundle of DIY classroom posters!They're better than any math posters you have ever seen!I have discounted this bundle by 50% to give you the MAXIMUM discount. I'm not allowed to make it any cheaper!Most math classroom posters are hard to rea

Price $58.22

Original Price $116.44

Save $58.22
Description
Help your class learn plotting points and identifying points in quadrant one with this printable poster!
The origin, x-axis, y-axis, and multiple points are graphed and labeled.
This poster has MANY different options. Check out the preview to see them all!
The panels are interchangeable depending on the phrasing that you want to use. You get a blank graph and partially completed graph – you can graph and label the points on the poster yourself as a lesson for your class.
You can use these poster pieces in multiple different ways. I glued them to a poster board, but you can staple them directly to your bulletin board or use them to create your own anchor chart!
The poster pieces line up perfectly for an appealing look. There's a version that fits nicely on a poster board and a larger version that will look great on your word wall, bulletin board, or math center.
This resource also includes a handout with multiple options depending on your needs. There's a full page completed version, a blank version you can use as a worksheet, and a half page version that fits nicely into an interactive math notebook!
Print this poster on brightly colored paper or card stock, mount, laminate, and you can use this for years to come!
Your class will really benefit from this poster!
Answer Key
Does not apply
Teaching Duration
Lifelong tool
Report this resource to TPT