**Onomatopoeia Packet (for An Onomatopoeia Adventure)**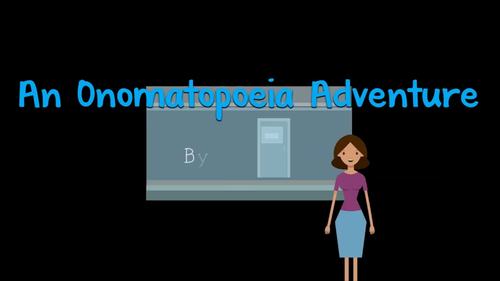 ;
Description
**This Onomatopoeia Resource Packet is perfect for the primary level to reinforce learning about ONOMATOPOEIA. For more engagement, please view details about my children's picture book, An Onomatopoeia Adventure, that goes perfectly with this packet.
Please view this promo video for more details.
Link to Books and Stuffed Animals perfect for this book, An Onomatopoeia Adventure
This learning packet comes with 7 different activity sheets:
Bubble Map
Word Search (basic and intermediate levels)
Word Challenge
Matching
Stick Puppets
and more!
(*Note- about 3 of the activities could be for Pre-K to Kinder level, most are for 1st-2nd or 3rd)
My read aloud book; however, is for early childhood to 3rd grade. Please see details below.
Also, if you would like me to add another type of activity sheet, please email me at dmariebeck21@gmail.com with your idea and I will do my best to add it!
I hope you enjoy this packet for ONOMATOPOEIA!
(BOOK OPTION)
Teachers, if you don't want to buy the paperback on Amazon, and instead, would like the PDF version, which, by the way, is great to project or display via smartboard, then you might want this PDF version of An Onomatopoeia Adventure Children's Book.
This engaging teacher created book is for early childhood - 3rd grade. Teach young children about Onomatopoeia in a fun, engaging, and interactive way.
Ono and Mato, pronounced as "On-oh and Mah-toh", have been best pals since they were young. They love going on different adventures. Ono, a wise turtle, and Mato, a fun-loving dog, go on an onomatopoetic adventure running from an unknown character. Find out who they are running from in this crazy Onomatopoeia Adventure!
*This book is perfect for a kinesthetic learning environment!
Visit my FB page. If you have a picture of your class having fun this book or packet, please share, I would love to post it on my page!
NEW- FULL BUNDLE with Book (pdf) and Packet
Also, if you would like the song that was created for this book. Please click here:
All Onomatopoeia Adventure Materials:
Much Gratitude,
SuperTeacherTactics
dmariebeck21@gmail.com
Report this resource to TPT