Open House Back to School Craftivity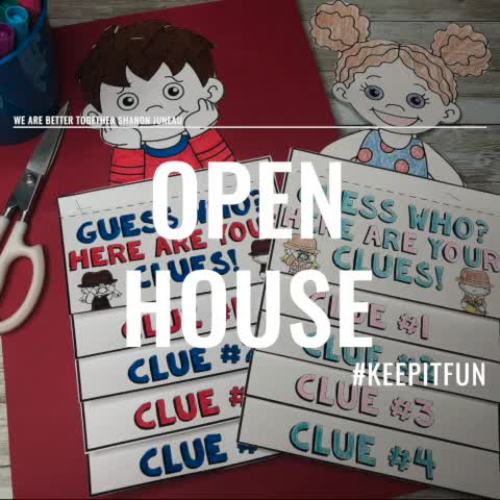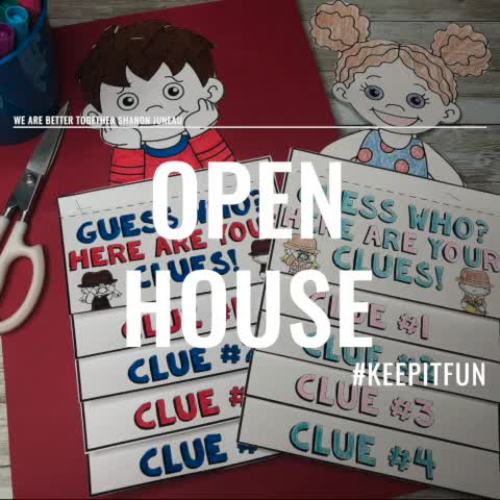 Created By
Shanon Juneau We are Better Together
Product Description
This OPEN HOUSE CRAFTIVITY is a fun way for students to hang their first writing activity on your wall or bulletin board. As parents come into your class for Open House, they can read the flipbooks and guess which one is their kiddo. The students absolutely LOVE knowing that the parents have a hard time guessing which one is their flipbook.
There are 17 different kid toppers for this activity!
I've also added an option for Clue #2 (Here's a picture of my house) - incase you're not using this for a back to school project.
If you like these types of resources, I also have:
SCHOOL DISTRICTS
★SCHOOL DISTRICTS TPT offers PO sales!  Here's the LINK to read all about it!  Thanks TPT for making this easy for schools.  If you need to contact me for a preview of one of my bundles, please email me at scjuneau@yahoo.com.
EARN TPT DOLLARS FOR FUTURE PRODUCTS
★CUSTOMER TIPS:How to get TPT credit ($$$) to use on future purchases: • Please go to your My Purchases page (you may need to login). Beside each purchase you'll see a Provide Feedback button. Simply click it and you will be taken to a page where you can give a quick rating and leave a short comment for the product. I value your feedback greatly as it helps me determine which products are most valuable for your classroom so I can create more for you. Be the first to know about my new discounts, freebies and product launches: • Look for the STAR near the top of any page within my store and click it to become a follower. You will now receive customized email updates about my store.
THANK YOU FOR CHECKING OUT MY LITTLE STORE!
I SURE APPRECIATE YOU!
Shanon Juneau❤️
We Are Better Together
Formerly known as:
OCD in Elementary
OCD in First
Report this Resource to TpT