Opinion Writing Unit SECOND GRADE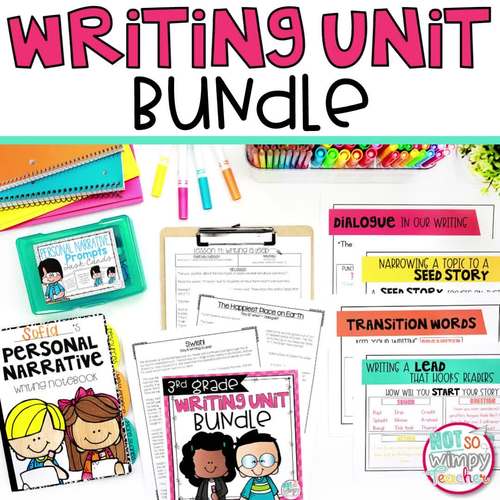 ;
What educators are saying
This was awesome. Saved me a TON of time. Great lessons, good mentor texts, I love the idea of the notebook sections. It kept my students engaged.
This unit was a great supplement and aligned with my district's writing curriculum, but in a more kid friendly format. My students got a lot out of this unit.
Also included in
This HUGE BUNDLE includes everything you need to teach, practice, and assess writing for the entire year! Students will complete four major units of study: personal narrative, informational reports, opinion essays, and fiction narratives.My second grade writing bundle includes 4 ready-to-use writing

Price $75.00

Original Price $100.00

Save $25.00
Description
This unit includes everything you need to teach, practice and assess opinion essay writing for eight full weeks. Students will be learning all of the skills necessary to write an essay with a strong opinion, supporting reasons and examples, topic and concluding sentences, paragraphs and so much more! The best part of this unit is that it includes EVERYTHING you need. You do not need to purchase a long list of books. All of the necessary mentor texts are included!
Note: This unit was written for second graders. I suggest looking at the preview to determine if it is a good fit for your specific class.
**Would you like to learn how I use these writing units? Click HERE to view a free video on how to implement these writing units.**
Included in this Unit:
• detailed teacher directions and suggestions for simple implementation
• 7 exclusive videos to help implement and organize the unit
• unit at a glance calendar
• 40 days of lesson plans that include guiding questions, materials, mini lessons, student work tasks, student share tasks, intervention and several extension activities
• 14 original mentor text passages
• 24 opinion writing task cards (identifying whether a topic is an opinion)
• 24 writing prompt task cards
• 11 teacher anchor charts (blank and filled in versions)
• 14 student anchor charts and printables for writing notebooks
• conference and goal tracking forms
• writing grades tracking forms
• rubrics
• list of 10 additional mentor text books (optional)
• 6 different writing publishing papers
• student writing notebook cover and dividers
• teacher notebook covers and binder spines
• multiple ideas for author share celebrations
NEW!!! Digital Writing Notebook with student anchor charts on Google Slides
Lessons Included:
• Setting goals
• What is an opinion essay?
• Generating essay ideas
• Drafting
• Writing strong opinion statements
• Writing a lead
• Supporting your opinion with reasons
• Considering your audience
• Consider opposing opinions
• Supporting your opinion with examples
• Paragraphs
• Writing a lead
• Topic and concluding sentences
• Word choice
• Transitions
• Writing a conclusion
• Editing
• Publishing
A Typical Day of Writing:
• Mini Lesson: The unit includes 40 lesson plans with a suggested mini lesson. Many of the lessons include the use of mentor text (passages that are included in the unit) and anchor charts. Teacher versions of the anchor charts are included in the unit so that the teacher can project them and fill them out with the class or print them and display in the classroom. Small versions are included for the students to fill out and keep in their writing notebooks as a reference.
• Work Time: Students will be applying the skill from the mini lesson into their writing each day. At the end of the unit, they will have completed two full masterpieces and many other independent writings.
• Share Time: Lesson plans include a specific task for students each day that allows them to share some piece of their writing with a partner or with the class.
Please take a look at the preview to learn more and see examples of components included in the unit.
Please let me know if you have any questions.
*****************************
Available in this money saving bundle:
*****************************
More Second Grade Writing Units:
Personal Narrative for Second Grade
Informational for Second Grade
Fiction Narrative for Second Grade
*****************************
Teaching Duration
2 months
Report this resource to TPT
Standards
to see state-specific standards (only available in the US).
Write opinion pieces in which they introduce the topic or book they are writing about, state an opinion, supply reasons that support the opinion, use linking words (e.g., because, and, also) to connect opinion and reasons, and provide a concluding statement or section.
With guidance and support from adults and peers, focus on a topic and strengthen writing as needed by revising and editing.
With guidance and support from adults, use a variety of digital tools to produce and publish writing, including in collaboration with peers.
Recall information from experiences or gather information from provided sources to answer a question.