Opinion Writing Unit for 2nd or 3rd Grade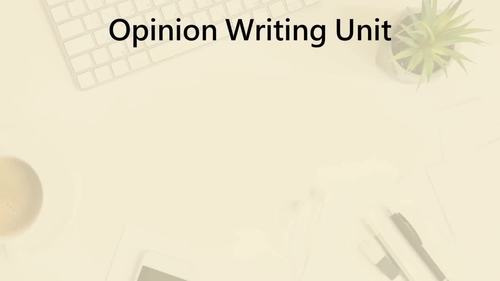 ;
What educators are saying
My students loved learning to write an opinion. We all have our own opinions and this helped me keep them focused and organized.
This is a great resource to help children to structure their writing and it really helped to consolidate their understanding of fact and opinion.
Also included in
Feel confident teaching writing and get great work from your students with 3 Common Core writing units together! What others are saying:"Can't wait to start off next year focusing on this! WONDERFUL product."-The Classroom of Progress"Used the How To and Poetry units at the end of last school year!

Price $28.78

Original Price $35.97

Save $7.19

Get great writing from your students! 5 genre based writing units that include quick-read lesson plans, graphic organizers, posters, grammar/vocab activities, writing project templates, task cards, writing examples, and more!What others are saying:"This is a wonderful resource that has made my life

Price $46.36

Original Price $57.95

Save $11.59
Description
"Hands down the best writing unit I have run across! Engaging, fun, and easy to teach!!" -KM, Teaching opinion writing is straight-forward and fun with this unit! Save time with easy-to-follow lessons and all needed materials at your fingertips! Students write great pieces that are organized, interesting, and accurate!
Engage students - high-interest writing topics, colorful visuals, interactive lessons
Help all students improve their writing - students are supported to do their best writing with planning organizers, examples, and explicitly presented skills. Lessons include research-based teaching techniques, and differentiation options
Save time - Lessons are easy to follow, all materials provided, print and go!
What others are saying:
"This resource is easy to follow and straight to the point. My 2nd graders loved this unit."
-Mariah G.
"My students created amazing writing pieces using this writing unit!"
-Ariana S.
"Love all the different activities to help make writing more fun and interactive!"
-Kelly D.
*Students create great pieces with this opinion writing unit because each day they focus on just one step in the writing process.
*Get the most out of your writing time - grammar and spelling skills are integrated each week!
Contents:
*22 Quick-Read Lesson Plans
*Graphic Organizers for Planning
*Grammar Activities
*Vocabulary Activities
*4 Interactive PowerPoints
*9 Posters
*3 Interactive Notebook Activities
*Rubrics
*4 Publishing Projects
*Teacher Demonstration Examples
Use for daily writing instruction or as supplemental projects for existing curriculum.
MUST SEE PREVIEW!
***SAVE A BUNDLE** save 20% when you purchase as part of the
Supports Common Core Standards (CCSS):
W.2.1, W.2.5, L.2.1.F, L.2.2
W.3.1, W.3.1.A, W.3.1.B, W.3.1.C, W.3.1.D, L.3.2
**For personal and single classroom use only. If using with multiple classrooms, please purchase additional licenses at a reduced rate.**
Related:
*Personal Narrative Writing Unit
...........................................................................................................................
*FREE Reading Skills Poster Set for newsletter subscribers SIGN UP NOW
*CLICK THE STAR by my name to FOLLOW me!
*Visit me on my Blog, my Facebook Page, on Pinterest, or on Instagram
...........................................................................................................................
Popular Math
*Open Number Line Practice Pack
*Counting and Skip Counting Dot-to-Dots
Popular Reading
*Fairy Tale Genre Study Packet
Answer Key
Included with rubric
Teaching Duration
1 month
Report this resource to TPT
Standards
to see state-specific standards (only available in the US).
Write opinion pieces in which they introduce the topic or book they are writing about, state an opinion, supply reasons that support the opinion, use linking words (e.g., because, and, also) to connect opinion and reasons, and provide a concluding statement or section.
With guidance and support from adults and peers, focus on a topic and strengthen writing as needed by revising and editing.
Write opinion pieces on topics or texts, supporting a point of view with reasons.
With guidance and support from adults, produce writing in which the development and organization are appropriate to task and purpose.
With guidance and support from peers and adults, develop and strengthen writing as needed by planning, revising, and editing.