Oral Presentations Bundle 2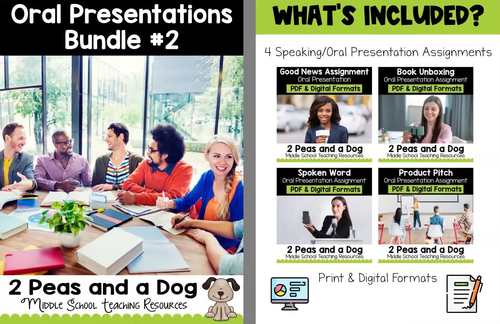 ;
Zip

Google Apps™
Includes Google Apps™
This bundle contains one or more resources with Google apps (e.g. docs, slides, etc.).
What educators are saying
Excellent product! Thank you for such a high-quality and time-saving resource. I appreciate your work.
Great resources to change up some of my oral presentation assignments. Students were engaged and the assignments were easy to follow.
Products in this Bundle (4)
Also included in
Teachers do not spend your weeknights and weekends planning out your Grade 8 English Language Arts program. Use this all in one Grade 8 Full Year Middle School English Language Arts Lesson Bundle as your ready-to-go ELA program. The bundle contains 90+ resources for teaching Reading, Writing, Speaki

Price $279.87

Original Price $349.84

Save $69.97
Description
Oral Presentations and Public Speaking Bundle 2 | PDF & Digital: Use this Oral Presentations and Public Speaking Bundle to help teach your students that speaking and presentation skills are important life skills. Students will practice their oral presentation (speaking) skills with these 4 different assignments: Good News, Product Pitch, Book Unboxing, and Spoken Word.
These assignments are provided in both PDF and digital (Google Slides) format.
All of these assignments can be purchased as stand-alone assignments, but the best value is to buy them as a bundle.
Included Assignments
1. Persuasive Pitch Assignment | PDF & Digital: Fans of the TV shows "Shark Tank" and "Dragon's Den" will love this assignment. Students will develop an idea of how to improve their school (e.g. installing recycling bins, creating a snack program, etc.) then they will pitch their idea to the judges (their classmates). After all of the presentations, students will vote on which idea they would invest their money in. This assignment is scaffolded into 5 different lessons.
2. Good News Assignment | PDF and Digital Formats: Students are constantly exposed to the news. It is important to showcase the good events that occur as well as the current events. In this assignment, students find a good news event to share with the class in an oral presentation. Students can present this information in a video format or a live presentation. This can be used with any non-fiction good news article.
3. Spoken Word Assignment | PDF & Digital: Use this assignment to help students plan, write and present their own spoken word poem. Spoken word is an engaging way to bring public speaking and authentic writing into the classroom. These poems are an engaging way to get students to write and share their thoughts and opinions.
4. Book Unboxing Assignment | PDF and Digital Formats: Students love social media and YouTube culture. Use their knowledge and excitement to promote reading in your classroom. Students select 3 - 5 books they have read and unbox them for the class. Students can present this information in a video format or a live presentation. This can be used with any fiction or non-fiction book.
These assignments contain:
Unit overview
Detailed lesson plans
Graphic organizers
Video examples (must have reliable internet to access)
Assignment sheet
Assessment criteria
Individual PDFs for Google Classroom
Google Slides for 1:1 technology schools
Teacher Feedback 
"The first Oral Presentation bundle was great so I bought the second one too. Well laid out and easy to use for both me and the pupils."
"As a grade 8 teacher who only teaches language and Social, it's hard to come up with oral presentations that are relevant as I cannot plan cross-curricular with other subjects. This resource provides some great projects that are not just book reports."
"This resource covers many different types of oral presentations they can use throughout any other subject to help integrate the curriculum"
Answer Key
Included with rubric
Report this resource to TPT
Standards
to see state-specific standards (only available in the US).
Integrate and evaluate information presented in diverse media and formats, including visually, quantitatively, and orally.
Present information, findings, and supporting evidence such that listeners can follow the line of reasoning and the organization, development, and style are appropriate to task, purpose, and audience.
Make strategic use of digital media and visual displays of data to express information and enhance understanding of presentations.
Adapt speech to a variety of contexts and communicative tasks, demonstrating command of formal English when indicated or appropriate.