Oral Presentations Bundle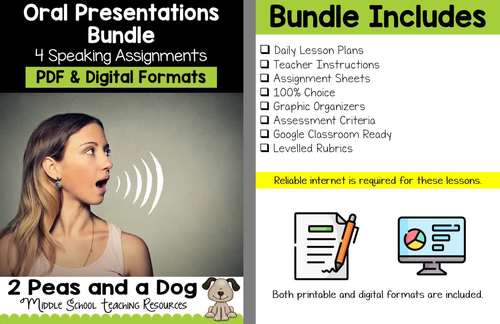 ;
Zip

Google Apps™
Includes Google Apps™
This bundle contains one or more resources with Google apps (e.g. docs, slides, etc.).
What educators are saying
Great resource full of engaging topics. My students loved all of the activities and each of the units are well organized.
Honestly, this is a great resources for junior students. My class really loved the Rants unit, it allowed them to think of clever topics that engaged the class. Will highly recommend!!!
Products in this Bundle (4)
Also included in
Teachers do not spend your weeknights and weekends planning out your Grade 7 English Language Arts program. Use this all in one Grade 7 Full Year Middle School English Language Arts Lesson Bundle as your ready-to-go ELA program. The bundle contains 90+ resources for teaching Reading, Writing, Speaki

Price $269.99

Original Price $337.08

Save $67.09
Description
Oral Presentations and Public Speaking Bundle: Get your students excited about oral presentations! Teaching students how to create an engaging oral presentation is an important life skill. Students will practice their oral presentation skills for these assignments: Current Events News Assignment, Hot Topics Debate Assignment, Book Talks, and a Rant Writing Unit.
Bundle Includes:
Detailed Lesson Plans
4 Assignments
Graphic Organizers
100% Student Choice
Assessment Rubrics
Individual PDFs
Google Slides Format
Current Events News Assignment: In this activity, students examine online or print news sources to report on a current event for their class. This can be used with any non-fiction new article or text.
Hot Topics Class Debate Assignment: This Hot Topics assignment can be used with any type of non-fiction text, news broadcast, documentary, or video on any topic in the content areas of Science, Math, History, Geography, World News. A lesson plan is provided explaining how to use this strategy in guided practice - modelled, shared, and independent.
Book Talk Assignment: In this Book Talk presentation assignment, students review their book for the class. Students are provided with several presentation ideas on how to creatively review their novel for the class.
Rant Writing Unit: Students rant to each other daily, why not channel that creative energy into some high-quality writing? Rants are an engaging way to get students to write and share their thoughts and opinions in the classroom.
Teacher Feedback
"This is a great value! I always find it difficult to assess the oral language expectations from the curriculum but now that I have this bundle, I will have an assignment for each term that I can use to report on. I love the variety of presentations. Also, the inclusion of success criteria and graphic organizers for each assignment is awesome!"
"I love all of your resources! I'm so excited about this one though because I find I struggle with finding meaningful oral communication projects. Often I just tell them to talk about something they like or their favourite movie etc.. so this is going to be an awesome addition to my resource bank!"
"I love the ideas here! And, as usual, everything is beautifully presented and well laid out. Thank you!"
"A valuable resource for any teacher starting out in teaching debating in a classroom environment. Thank you for your hard work, your resource is wonderful!"
"The Oral Communication strand is always to most difficult for me. These are great new ideas presented in an organized manner that are exciting and engaging for students."
"This is a fantastic resource to help students develop their oral language skills. There is a lot of choice provided for students, and since they are able to choose topics that are meaningful to them this is an engaging resource."
Answer Key
Included with rubric
Report this resource to TPT
Standards
to see state-specific standards (only available in the US).
Prepare for and participate effectively in a range of conversations and collaborations with diverse partners, building on others' ideas and expressing their own clearly and persuasively.
Integrate and evaluate information presented in diverse media and formats, including visually, quantitatively, and orally.
Evaluate a speaker's point of view, reasoning, and use of evidence and rhetoric.
Present information, findings, and supporting evidence such that listeners can follow the line of reasoning and the organization, development, and style are appropriate to task, purpose, and audience.
Make strategic use of digital media and visual displays of data to express information and enhance understanding of presentations.