Order of Operations Math Color by Number Activity Worksheets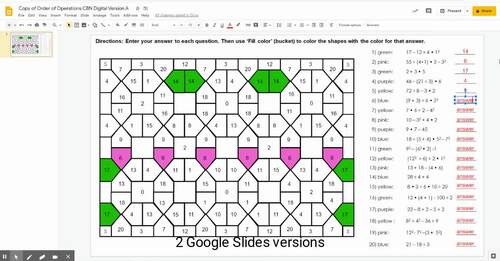 ;
PDF

Google Apps™
2 student pages for each of the 3 versions; 2 extra coloring pages; answer keys; links and instructi
Includes Google Apps™
The Teacher-Author indicated this resource includes assets from Google Workspace (e.g. docs, slides, etc.).
What educators are saying
Great review for my SDC juniors and seniors who needed a refresher on the order of operations after summer. Fun coloring activity too!
I used these as early finishers for my kids this year. The kids enjoyed them and I loved that they were reviewing while having fun. Great product, thanks!!
Also included in
These math color by number activities offer the chance to add the mindfulness, wellness, and quietness coloring brings, while engaging students in practice with fractions, decimals, multi-digit multiplication, long division, absolute value, exponents, and more!AND coloring in math has been shown to

Price $40.00

Original Price $68.74

Save $28.74

This math color by number bundle for 4th - 7th grades includes 60 separate easy-prep color by number resources for students to practice with fractions, decimals, multi-digit multiplication, long division, absolute value, exponents, equations and more!These math color by number activities offer the c

Price $125.00

Original Price $209.74

Save $84.74

Do you need 6th grade math activities to use throughout the entire school year? I've got you covered! Save yourself HOURS of planning and prepping time with the wide variety of notes and activities in this bundle!Give your students some new and creative ways to look at math concepts on a daily basis

Price $265.00

Original Price $490.99

Save $225.99

This HUGE middle school math full-year resources bundle includes a TON of material that addresses 6th grade and 7th grade math standards!Save yourself HOURS of planning and prepping time with the wide variety of notes and activities in this bundle!Give your students some new and creative ways to loo

Price $449.00

Original Price $791.74

Save $342.74

This set of order of operations resources offers a variety of activities for your upper elementary or middle school math class. Some are print and some are digital! There are both group and independent activities to keep your students active and engaged. The resources include Truth or Dare game, Col

Price $10.50

Original Price $16.25

Save $5.75
Description
Order of operations practice is more engaging when there's color involved! This set of easy-prep, print and digital color by number activities is great for students - they solve, self-check, AND color in these order of operations color by number activities!
Students will immediately know whether or not they solved correctly - if their answer is incorrect, they won't find it on the coloring sheet!
⭐️DON'T NEED DIGITAL? You can grab just the print version here.
⭐️Need task cards, notes and/or game too? Check out the Order of Operations mini-bundle for great savings!
Check out the Preview and video demo above to see what's included and how the Google Slides versions work (students will need to know how to use the "Fill color" feature).
If you aren't using Google Classroom but can access my Google links, you could download as a PowerPoint and students can interact with the PPT version the same way they would with the Slides version:-)
The problems require students to:
Use the order of operations to evaluate expressions
Problems range from expressions with JUST operations, to those with operations and parentheses, to others include parentheses, exponents, and operations
In this easy-prep resource, you'll find:
1) Three different print versions, A, B, and C:
Versions A and B have the same 20 problems, but in a different order on the page. The coloring pattern is also different, so each version has its own problem page and coloring page.
Version C has 15 problems (different problems from A and B) and a less complex coloring sheet, with fewer areas to color.
There are two copies of each problem page – one that uses the x for multiplication and one that uses the dot (digital versions use the dot).
2) Links to 2 Google Slides versions, A and B:
These versions are the same problems as the print versions (one has 20 questions and one has 15).
The pattern for A is different than the print version. Version A has the same problems as print A and B.
The pattern for C is pretty close to the print version; problems are the same as
paper C.
Instructions for digital versions
3) Two coloring pages without numbers, for students to color in their own way or to create their own color by number activities!
What teachers are saying about this resource:
⭐️⭐️⭐️⭐️⭐️"I loved this! I used this as a sub plan for my 6th graders to practice Order Of Operations while I was out. I love that there are so many options, and I especially LOVE that there was an option to use the dot for multiplication instead of the x! I've been trying soooo hard to break my students of that habit as we move into algebra, so it was perfect! "
⭐️⭐️⭐️⭐️⭐️"This was the first item returned by students trying out my digital lessons! Easy to use and very colorful. It made me smile to see it in my Classwork Folder."
⭐️⭐️⭐️⭐️⭐️"My students love these and are going through them quickly. I have been known to say, "Put that away and take out your reading book" Thanks for a great product."
⭐️⭐️⭐️⭐️⭐️"My students really enjoyed this resource. It was really good for extending some of my students but also was enough for me to use to support my students who weren't understanding the concept."
Related Resources:
Order of Operations Doodle Math Wheel: engaging notes and practice
Order of Operations Truth or Dare Review Game
Order of Operations Activities Bundle
For CBN savings, check out:
Color by Number Bundle #1 (grades 5-7)
Complete Color by Number Set, Grades 4-7
Check out all Color by Number Activities
*******************************************************************
You might also like:
6th Grade Math Resource Bundle - resources for the entire year.
********************************************************************
Please keep in touch by following me, to be notified when new resources are uploaded! Resources are typically 1/2 off for the first 24 hours, so it pays to follow!
**************************************************************************
Connect with Me:
Click HERE if you'd like to get freebies from me sent to your inbox.
*********************************************************************
Copyright © Cognitive Cardio Math
Permission to copy for single classroom use only.
Please purchase additional licenses if you intend to share this resource.
Total Pages
2 student pages for each of the 3 versions; 2 extra coloring pages; answer keys; links and instructi
Teaching Duration
45 minutes
Report this resource to TPT
Standards
to see state-specific standards (only available in the US).
Write and evaluate numerical expressions involving whole-number exponents.