Organization – Executive Functioning Unit and Skills Reflection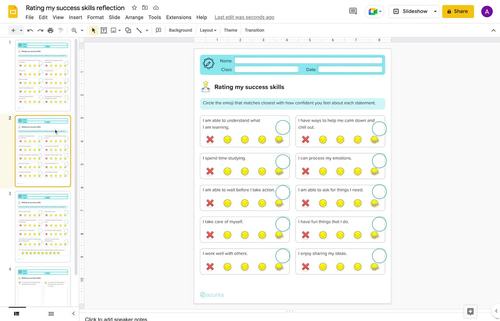 ;
6

th

- 12

th
,
Adult Education
,
Homeschool
Zip

Google Apps™
Includes Google Apps™
This bundle contains one or more resources with Google apps (e.g. docs, slides, etc.).
Easel Activities Included
Some resources in this bundle include ready-to-use interactive activities that students can complete on any device. 
Easel by TPT is free to use!
Learn more
.
Products in this Bundle (3)
Description
Preview the COMPETE PDF version of this product by clicking the View Preview button :)
Need to progress monitor an organizational goal? Know your learners could make huge progress if they could just find their assignments? Do we have the unit for you! Level up executive functioning and organizational skills from backpacks to Google Drive
Features:
✏️ 70 pages of inspiring content
✏️ Interactive table of contents
✏️ 5 complete lesson plans
✏️ Flexibility for one-on-one, small group, and whole class
✏️ 2 aligned instructional videos
✏️ Google versions of student activities and lesson plans (linked in PDF)
✏️ Dive deeper with extension options that cover:
* Home/workspace organization
* A plan to organize anything
* Helping a friend organize
* Digital organization 
✏️ 20 student activities
✏️ Ideal for in person and/or remote learning 
✏️ Learner autonomy in crafting an organizational system that supports their strengths and needs
✏️ Includes bonus reflection that can be used as a pre/ post assessment of executive functioning skills overall
How can I see a sample?
Click on the preview button to see the PDF of the product in full.
Want more?
Click Here to follow our store. You will receive emails about every new resource as soon as it is available, so click the GREEN STAR ⭐ next to Azulita to follow us and get notified for sales and new items!
You can also sign up for our monthly newsletter here
How can I earn free products?
Once you have purchased this product, make sure to go back into "My Purchases" and leave a review to earn TpT credits. These credits can be used toward future purchases from any seller!
Where else can I connect with you to get free resources?
Check out our website
Subscribe to our YouTube channel
Email: yourfriends@azulita.org
Report this resource to TPT