Orton-Gillingham: Multisensory Phonics Games Activities Bundle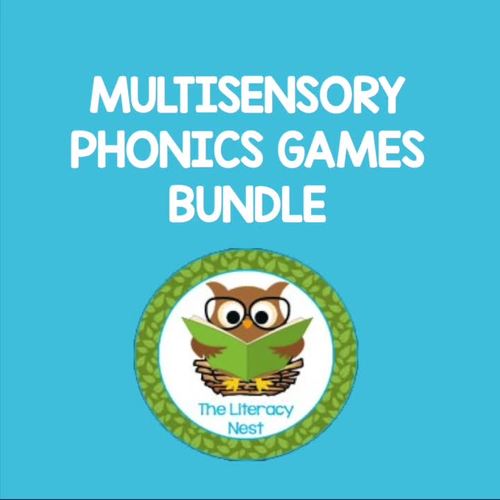 ;
Zip

Google Apps™
328 and additional file for Google Drive
Includes Google Apps™
The Teacher-Author indicated this resource includes assets from Google Workspace (e.g. docs, slides, etc.).
What educators are saying
It's wonderful. I put the games in sheet protectors in a binder. I can pop out the page I need and everything is ready to go!!
I LOVE using this in my small OG groups! The kids love the reading and the activities and it's never overwhelming for them or for me when prepping!
Description
Write your Orton-Gillingham lesson plans and you will be ready to go with this extensive bundle of multisensory games to support your phonics instruction. As you build a collection of resources for dyslexia learners, this phonics game bundle is a must have!
Your Orton-Gillingham teaching supplies are set with this bundle of over 90 phonics games and learning resources! It is suitable for the Orton-Gillingham approach, lesson planning, and reading intervention programs. Every game uses a multisensory approach to practicing specific phonics skills. Many incorporate reading and spelling simultaneously.
NOTE: This is a collection of games that come from my Complete O.G. Bundles 1 and Part 2 Bundle Multisensory Phonics Packs and The Syllabication Bundle. Each game comes with directions. They are all low prep and easy to set up for a 1:1 or small group setting.
Please preview before downloading!
--Included--
CVC (6 games)
Blends (9 games)
Digraphs (6 games)
VCe (5 games)
R-controlled Vowels (6 games)
AI
AY
EE
EA
OW
OE
OA
OU
AU
AW
IE
IGH
EY
Y Rule
E Rule
FLOSS Rule
Doubling Rule
3 Sounds of ED
GE/DGE
UI
EW
EIGH
OO
SCHWA A
Syllable Types
Syllable Division
--Resource Notes--
UPDATE!! I have made interactive versions of these games. There are images of the games in Google Slides with links to play them interactively in tandem with one another. Watch a brief tutorial to see how to use this digital resource HERE.
Digital Availability: This resource is available in Google Drive for online tutoring and virtual learning. You receive a master copy. You will need to save a copy to your Google Drive account and you can copy/paste from your copy into your online presentations. Please read the provided directions.
Tech Tip: If you're trying to copy/paste one of my passages from the Google Drive version into your own Google Doc or Slides presentation and you get a big exclamation mark on the side in a gray box, try to clear your cache or use Firefox instead of Google Chrome.
--Related Products--
These games are included in The Complete O.G. Part One and The Complete O.G. Part Two Bundles.
Try decodable reading passages for free! Sign up for my mailing list for a free set of decodable passages.
Need more Virtual Learning Activities? Browse the Distance Learning Category of my store.
Check out more Orton-Gillingham resources!
--About The Literacy Nest, LLC—
The Literacy Nest, LLC creates multisensory activities to use with reading intervention for struggling readers. Many of these dyslexia resources can be used as dyslexia activities, dyslexia strategies, or to support an Orton-Gillingham program or dyslexia intervention program. These Orton-Gillingham activities can be used in 1:1 support, small group, or even whole class settings. Thank you for checking my store for Orton-Gillingham based resources! Follow my store by clicking the green star next to my name so you don't miss out on any new products, freebies, or sales!
Please leave feedback on your purchases to obtain credits for future purchases. Don't hesitate to contact me with questions or concerns before rating products.
Thank you so much for choosing The Literacy Nest, LLC for your classroom and homeschooling needs!
Total Pages
328 and additional file for Google Drive
Report this resource to TPT