Orton-Gillingham Resources The Complete O.G. PT. 2 Bundle | DISTANCE LEARNING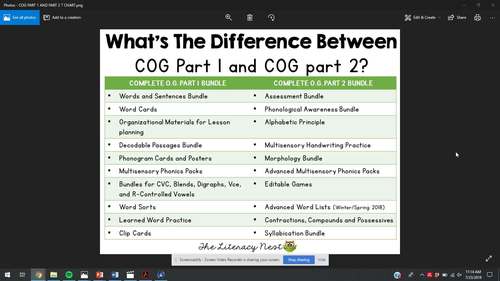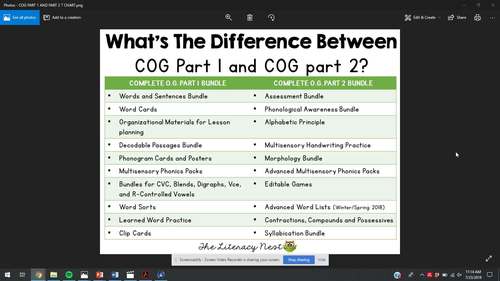 Created By
Emily Gibbons The Literacy Nest
Format
Zip
 (
380 MB
|
2,836 AND 5 digital versions for use with Google Drive
)
 Digital Resource for Students
The Teacher-Author has indicated that this resource is made for device-based learning.
Product Description
I understand what a challenge it is to find Orton-Gillingham activities suitable for your students. Your Orton-Gillingham lesson plans will be ready to go with this extensive bundle of multisensory activities.
If you are an Orton-Gillingham tutor or teacher, this resource will be invaluable for years to come.
The Complete O.G. PART TWO is a BUNDLE that I have created for use with the Orton-Gillingham approach and/or dyslexia intervention.
I am an IDA Certified Dyslexia Practitioner and Orton-Gillingham instructor through an accredited IMSLEC training program and use the Orton-Gillingham method in my teaching. I am also an Associate member of AOGPE.
After completing over 320 supervised practicum hours with trainers using the Mass General Hospital Orton-Gillingham curriculum and AOGPE, I made the decision to help fellow OG instructors and other reading interventionists by creating these resources. Wilson trained specialists will benefit from this bundle as well.
9/17/20 UPDATES! I'VE ADDED GOOGLE DRIVE VERSIONS FOR:
COMMON PREFIXES,
COMMON SUFFIXES
GREEK FORMS AND LATIN ROOTS
SPELLING GENERALIZATION PASSAGES
Bonus: Multisensory Phonics Games Bundle
SYLLABICATION BUNDLE
ALL PHONICS PACKS: These pages are editable text boxes for students to type in their answers.
ON TRACK ASSESSMENT LEVELED PLACEMENT
ALL PHONICS PACKS: These pages are editable text boxes for students to type in their answers. L
THE GREEK AND LATIN ROOTS RESOURCE HAS A DIGITAL VERSION WITH TEXT BOXES.
BE SURE TO HAVE STUDENTS MAKE THEIR OWN COPY WHEN TYPING IN THE THE TEXT BOXES.
THEY'RE GREAT FOR ONLINE TUTORING. SIMPLY MAKE A COPY. THEN COPY/PASTE THE PASSAGE YOU NEED INTO A PRESENTATION. ( As a result, the price has increased from $299 to $319.)
FURTHER UPDATES
I have replaced a few pages in each of the phonics packs to better reflect a structured literacy model.
There are no more pages with word boxes or pages with pictures and dashed lines for students to spell.
I have replaced them with pages to support phoneme/grapheme mapping and/or sentence writing.
You may also see slight revisions to the text in some passages and sentence strip pages.
Any phonics packs with concentration games have a fun interactive version to play online for distance learning.
Revisions made to Common Prefixes and Common Suffixes
Finally, I have added digital versions for use with Google Drive in the decodable passages, word lists, multisensory phonics games bundles and all morphology packs.
Note: I do not create lesson plans for purchase because every O.G. lesson is highly individualized and prescriptive for the child's needs. A lesson I have made for one student may not match a lesson you would need for yours. All of my resources are created to accompany your lesson plans.
If you are a new Orton-Gillingham tutor or have used the Orton-Gillingham approach for many years, this bundle is time saving and cost effective. I've provided ready to use materials for all five levels of Orton-Gillingham instruction.
COMMONLY ASKED QUESTIONS
Q: What's the difference between The Complete OG Part 1 Bundle and The Complete OG Part 2 Bundle?
A: Download this free comparison chart for The Complete OG Part 1 and Part 2 Bundles to see the differences.
IMPORTANT: In order to avoid making duplicate purchases with products that may be in this bundle, please see the thumbnails and download the preview to see the products included.
Q. What is the savings?
A. Purchased separately, this bundle would cost approximately $425. I am offering a discounted price of $299.
Q. What about updates?
A. As a buyer, you are entitled to free updates anytime I upload them. All you have to do is go into "My Purchases" to download the updated version. I recommend checking in from time to time to see if there are updates made.
Q. How do I open this resource?
A. Please see the following instructions.
This product is one large zipped file.
It contains over 35 files. Some are in zipped files.
When you open it, you will first unzip the large bundle. Please do this on a computer and not on a mobile device.
When you are ready to open the files within it, you will need to unzip the other files.
If you have any trouble opening them, please contact me.
Click here to purchase The Complete O.G. Part One.
Wondering how to keep this resource organized?
Click here to learn how to organize The Complete O.G.!~~~
The Literacy Nest, LLC creates multisensory activities to use with reading intervention for struggling readers. Many of these dyslexia resources can be used as dyslexia activities, dyslexia strategies, or to support an Orton-Gillingham program or dyslexia intervention program. These Orton-Gillingham activities can be used in 1:1 support, small group or even whole class. Thank for you for checking my store for Orton-Gillingham based resources.
*********************************************************************
NOTE: Please read my TERMS OF USE. This bundle is for a single user, only. Sharing these files in any form, as well as any of my other resources with others is a violation of my terms of use. This is not for resale or commercial use. If you are looking to share, please purchase an additional license. I have a special discount for additional users. Thank you for honoring my terms of use.
NOTE: THE BUYER IS NOT AUTHORIZED TO POST THIS RESOURCE ON AMAZON INSPIRE OR ANY OTHER WEB HOSTED SITE WITHOUT MY PERMISSION.
OUTSCHOOL TEACHERS: PLEASE CONTACT ME FIRST TO DISCUSS MY TERMS OF USE BEFORE USING MY MATERIALS IN ONLINE COURSES.
*********************************************************************
If you have any questions about Orton-Gillingham or this product, please contact me at theliteracynest@gmail.com
Finally, your feedback is greatly appreciated. I strive to create high quality products for you and your students. If there is a wish or a hope you have for this product, please message me BEFORE rating it. I'm happy to accommodate your requests to the best of my ability.
Emily Gibbons, M.Ed. IDA Certified Dyslexia Practitioner, certified Orton-Gillingham practitioner, A/AOGPE
~~~~~~~~~~~~~~~~How To Follow My Store~~~~~~~~~~~~~~
Just click the green star next to my name at the top of this store page. You'll hear about my sales, new products and freebies!
Orton-Gillingham approach, Orton-Gillingham training, Orton-Gillingham method, Orton-Gillingham phonics, phonics worksheets, phonics sounds, learning disabilities, dyslexia therapy, dyslexia awareness, multisensory approach, dyslexia symptoms
Orton-Gillingham resources, Orton Gillingham, Orton-Gillingham Tutor; orton-gillingham, Dyslexia, multisensory education, multisensory activities, reading, writing, spelling, phonics, reading and writing strategies; resource guide, teacher support, consonants, consonant blends, consonant digraphs; vowel consonant e, Magic e; vowel teams, short vowels, long vowels, ending blends, syllables, syllable types: closed, open, Bossy R and R-controlled; vowel teams and vowel digraphs; consonant -le; vowel diphthong; oral language; receptive language; written expression; language development; language disorders, games, individual lessons; small group lessons; class; speech; speech therapy; concentration game; spelling generalizations, spelling rules, posters, vowel posters, spelling posters, parts of speech, reading fluency, reading fluency practice, vocabulary, vocabulary development; reading comprehension, OG; schwa; phonics; processing speed, OG Bundle; bundles, sight words, red words, classroom support; parent support; phonics; teacher support; additional resources, reading resources; resource guide, OG tutor, OG tutoring, tutor, og lessons; OG lessons; help in reading; reading help, parent help in reading; parent resource guide for reading; writing; writing support; writing strategies; reading strategies; student reading support, special education; special ed, sped, speech, speech therapy; speech training; structured literacy; short vowels, digraphs, long vowels; structural analysis, orton-gillingham lessons; short vowels, spelling, rtn-gllnghm, dslx, stctrd ltrcy, cursive handwriting
Total Pages
2,836 AND 5 digital versions for use with Google Drive
Report this Resource to TpT