Ozobot™ Coding with Robots Elementary Coding Maze | Robotics Makerspace Activity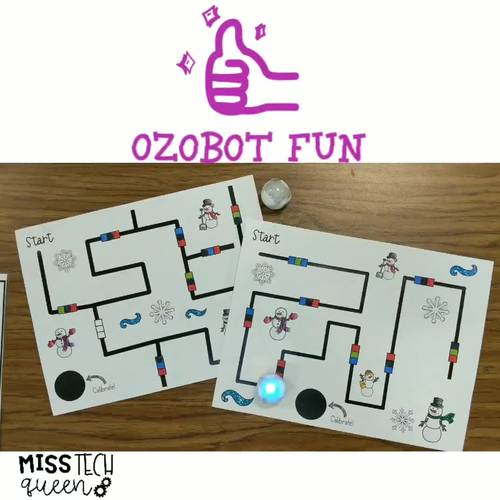 ;
Zip

Google Apps™
Many Activities - Over 30 mazes
Includes Google Apps™
This bundle contains one or more resources with Google apps (e.g. docs, slides, etc.).
What educators are saying
Great puzzles to use with Ozobots. Easy activity to give to students once they feel comfortable with the Ozobot color codes.
This is a great bundle to share with kids each month. If you have ozobots, this is a done deal. Ready to go, little prep. Fantastic!
Products in this Bundle (14)
showing 1-5 of 14 products
Bonus
Digital Resource - Make your Own Maze
Also included in
STEM naturally lends itself to be fun, hands-on, engaging, and challenge-focused which kids love. They will feel more like they are playing than learning awesome Science, Engineering, Art, and Math skills. But for a teacher, lessons can take hours and hours to prep and plan. Thanks to this bundle, y

Price $249.95

Original Price $396.23

Save $146.28

Coding is such a great skill that incorporates thinking, problem solving & creativity. If you have robots in your classroom, but don't know where to start, this bundle is perfect for you. For a teacher, lessons can take hours and hours to prep and plan. Thanks to this bundle, your ENTIRE YEAR ca

Price $179.03

Original Price $255.75

Save $76.72
Description
Looking for fun activities to practice coding with robots in your classroom? This Ozobot™ Coding with Robots Elementary Coding Maze Bundle is just what you need! Your students will love exploring robotics as they use these elementary coding mazes with their ozobot™. With over 30 themed elementary coding mazes your students will be coding with robots in no time! Simply print out the maze you want students to complete, hand itout to each student or teams, and let them start coding to get the robot to the end of the maze! These elementary coding mazes work great for stations, centers as well as a makerspace activity if you have one in your classroom. 
See preview for details
Ozobot™ Coding with Robots Elementary Coding Maze Bundle includes: 
14 Different themed activities
Multiple Elementary Coding Mazes - Each themed activity comes with two or more mazes
Code sheets - two sizes (half page or business card size)
Note: Answer keys for these elementary coding mazes are NOT provided as there are several combinations available to complete each maze. 
How to Use In Your Class
Before starting these robotics activities make sure that students have a good understanding of how to use ozobots™. Each elementary coding maze activity allows students to problem solve and determine which color code to fill in the empty spaces. Students can concentrate more on selecting the correct code, rather than worry about drawing the right lines with correct sizes. Often students focus on using the fun codes like turbo or spin, this encourages students to problem solve and decide on turn codes to reach the end. Your students will have so much fun coding with robots with these elementary coding maze activities! 
Important: These activity sheets only work with an ozobot™ - robot not included ;) AND some teachers have had an issue with the ozobot™ on lamination – for others it works - use your discretion. 
❤️ See What Teachers Are Saying ❤️
If you have ozobots in your classroom, this is a must buy! Easy to print and use! It makes coding with ozobots so simple and accessible for all of your students. 
This is a great resource to use in a STEM lab! My students loved these activities! I really liked the different background themes. These are very easy for 1st graders to use. Thank you for sharing :)
What a great resource and time saver! I was able to get 3 Ozobots at a yard sale and it makes a great center for students in my K-8 computer science classes. The make your own maze bonus was incredible! I am doing a whole Star Wars theme this year and you even included that! Thank you so much! 

Want to test it out first? Grab this
LET'S CONNECT
.N
I'd love to hear your feedback :) When you review, you earn TPT credits for free purchases!
♥ I'd Love to connect with YOU!C/a>
As always, please contact me with any questions! Thank you,
Dena ♥
Total Pages
Many Activities - Over 30 mazes
Teaching Duration
Lifelong tool
Report this resource to TPT