PBL Maker Challenge: Dinner Party on a Budget Project for High School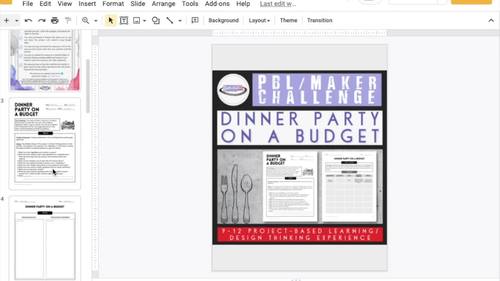 ;
What educators are saying
If I remember correctly, I used this resource before there was a digital option. My students were engaged and had a lot of fun planning for this party.
Also included in
Resource Description:This experiential learning holiday-themed bundle combines several experiential learning activities including project-based learning, inquiry bingo, and maker projects. The resources included in this bundle are hands-on, student-centered, and encourage skill-building as well as c

Price $16.00

Original Price $20.00

Save $4.00

What are some high school life skills that your students should be building? How about budgeting, meal planning, and personal finance for an incredible start?I have put together several high school life skills resources that when combined help students build these essential life skills and 21st-cent

Price $24.30

Original Price $27.00

Save $2.70

Looking for some fun and challenging high school end-of-the-year activities? This bundle of PBL/Maker challenges offers a variety of interesting, active, and purposeful ways to keep your kids engaged and entertained as you wrap up the school year. What experiences does this bundle prepare you and yo

Price $16.20

Original Price $18.00

Save $1.80
Description
This life skills math resource is a great budget project for high school students. It is fun, and engaging, and it has already been created for you! All you have to do is share the resource and enjoy guiding students through the experience!
This experience asks students to develop menus for a hypothetical dinner party under a set budget. 
Students will brainstorm creative money-saving tricks when it comes to food, research recipes, tweak recipes to work for a large party, work with community experts, create a budget-friendly menu, and share their product with an authentic audience.
What to Know About this Resource:
Because this is a project-based learning lesson plan with an emphasis on design thinking, students also develop soft skills such as problem-solving and critical thinking.
The topic itself (meal budgeting) is real-world and relevant to students, keeping them engaged in the activity throughout the experience.
This life skills project is low-prep and free as long as students have access to a computer and the internet. Students will lead; you will facilitate.
This is not a cooking project unless you want it to be. Students are not expected to cook their meals. They will create a menu that could be used by their authentic audience.
This resource includes a PDF printable version and a digital, Google Slides version.
This resource includes:
Teacher guide - the teacher guide assists beginner project-based educators through the entire process from start to finish so that you can be confident in the facilitation process and focus your energy on the kids.
Student guide - the guides walk students through this project so precisely that students could execute the entire experience independently if you need them to.

Ideation: Exploring money-saving tricks
Prototype: Developing a menu based on budgeting tricks
Budget Templates: Walks students through developing and maintaining a budget
Final Product Planner

Learning Reflection questions
Project Rubric
Looking for free resources that go well with this resource?
Check out these blog posts for additional assistance with this resource:
If you like this product, check out these activities as well!
Interested in new resource alerts, freebies, tips, tricks, and more?
Earn TPT Credits:
Follow Experiential Learning Depot and earn TpT credits by giving feedback on this product. A sincere thank you for your business. Feel free to contact me through email at any time with questions on this product - experientiallearningdepot@gmail.com
Cover Font Credit: Mr FISK Fonts
Report this resource to TPT