PBL Math Problem Solving Project - Holiday Feast Math Task - Print and Digital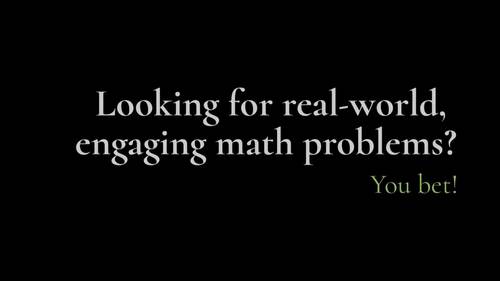 ;
PDF

Google Apps™
Includes Google Apps™
The Teacher-Author indicated this resource includes assets from Google Workspace (e.g. docs, slides, etc.).
What educators are saying
My students had so much fun with this PBL. Easy to differentiate and a great lesson to do before Thanksgiving.
What a creative project based learning activity for the holiday! My students loved this and didn't realize they were stretching their thinking and learning while making a dinner.
Also included in
Are you looking for higher-level math performance tasks and problem solving activities to use with your students? Do you want low prep, low ink AND flexibility—a math problem solving resource that can be used with small enrichment groups or can be tiered so you can use it with your entire class…but

Price $25.00

Original Price $34.65

Save $9.65
Description
Are you looking for a high-level math project-based learning/problem solving project to use with your students for some fun Thanksgiving math--or truly at ANY time of the year! This "feast" themed project is perfect for this time of year, but no mention of any specific holiday is mentioned so there is tons of flexibility!
I know finding quality math tasks that are engaging and low-prep is tough--but I've got you covered!
Do you want flexibility—a math resource that can be used with small enrichment groups or can be tiered so you can use it with your entire class…but at different levels?
Do you want your students to be problem solving, thinking creatively, writing and talking about math, and working collaboratively?
Do you want them working on math in "real world" contexts?
Do you want to have both PRINT and DIGITAL options available all in one resource?
This may be just what you are looking for!
Want to save 25% on the bundled set of these? Just CLICK HERE!
For years, I have wished and hoped for a resource that would provide my students with high-quality, open-ended tasks to allow them to apply what they learn to real world situations. Guess what? They are hard to find! So I thought and I thought…and finally, the idea for a flexible, high-level series of problems came to me.
They can be used
whole class
with enrichment groups
for fast finishers
or even in ways with different groups of students.
Again, this version is PERFECT for use around Thanksgiving, Christmas, or any other holiday where a "feast" is in order () as it asks students to use the information presented to budget time and food to plan out the meal preparations. There are lots of factors to consider--this is not a fill-in-the-blank resource!
Each of the resources in this series is based on a different real world theme--like planning a holiday feast--and students need to use the "Math by the Numbers" posters (available in full color to laminate for centers and in black and white for easy copying) to work on a multiple step, open ended project.
The activity is tiered so that the same activity is available at different levels. Not only that, but you get additional math practice sheets (also tiered), suggestions for math discussions, extension activities, and more!
This version focuses on elapsed time, basic fraction concepts, reading tables, and multi-step problem solving. It is ideal for grades 3 and 4 and could be used in other grade levels at your discretion. I hope you enjoy it--and the flexibility it offers you.
------------------------------------------------------------------------------------------------------
Looking for more Thinker Task resources? Here is the complete list!
Back to School Shopping Problem
A Valentine Celebration Problem
------------------------------------------------------------------------------------------------------
All rights reserved by ©The Teacher Studio. Purchase of this resource entitles the purchaser the right to reproduce the pages in limited quantities for single classroom use only. Duplication for an entire school, an entire school system, or commercial purposes is strictly forbidden without written permission from the author at fourthgradestudio@gmail.com. Additional licenses are available at a reduced price.
Report this resource to TPT
Standards
to see state-specific standards (only available in the US).
Tell and write time to the nearest minute and measure time intervals in minutes. Solve word problems involving addition and subtraction of time intervals in minutes, e.g., by representing the problem on a number line diagram.
Know relative sizes of measurement units within one system of units including km, m, cm; kg, g; lb, oz.; l, ml; hr, min, sec. Within a single system of measurement, express measurements in a larger unit in terms of a smaller unit. Record measurement equivalents in a two-column table. For example, know that 1 ft is 12 times as long as 1 in. Express the length of a 4 ft snake as 48 in. Generate a conversion table for feet and inches listing the number pairs (1, 12), (2, 24), (3, 36),...
Use the four operations to solve word problems involving distances, intervals of time, liquid volumes, masses of objects, and money, including problems involving simple fractions or decimals, and problems that require expressing measurements given in a larger unit in terms of a smaller unit. Represent measurement quantities using diagrams such as number line diagrams that feature a measurement scale.
Fluently add and subtract within 1000 using strategies and algorithms based on place value, properties of operations, and/or the relationship between addition and subtraction.
Multiply one-digit whole numbers by multiples of 10 in the range 10–90 (e.g., 9 × 80, 5 × 60) using strategies based on place value and properties of operations.