PE Lessons Bundle: TPT's #1 Best-Selling Physical Education Bundle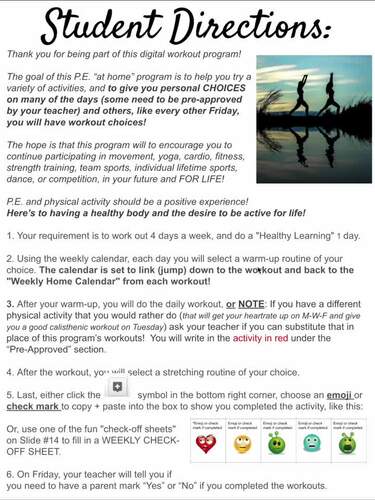 ;
Zip

Google Apps™
Includes Google Apps™
This bundle contains one or more resources with Google apps (e.g. docs, slides, etc.).
Easel Activities Included
Some resources in this bundle include ready-to-use interactive activities that students can complete on any device. 
Easel by TPT is free to use!
Learn more
.
Products in this Bundle (14)
showing 1-5 of 14 products
Bonus
Teacher Directions START HERE
Description
★★★★★ This full year P.E. includes ! Lesson plans develop physical literacy, motor skills, increase knowledge, incorporate physical fitness, teach sportsmanship, and empower students to choose life-long physical activity!
➡️ This resource for many reasons.
:
☑️ : See a video here!
General PE Class 2 Days a week for a complete year
General PE Class 3 Days a week for a complete semester
General PE Class 5 Days a week for a complete semester
Weight Training for 2 Days a week for a complete semester
Weight Training for 5 Days a week for a complete semester
Weight Training for 2 Days and General P.E. for 3 Days a week for a semester
☑️ :
Tennis Unit
Backyard Games Unit
Soft LaCrosse Unit
Field Hockey Unit
Ping Pong Unit
Pickleball Unit
Aerobic Fitness Unit
Floor Hockey Unit
Team Handball and Speedball Unit
Bowling Unit
Dance Unit
Components of Fitness
FITT plans
25+ c
20+
Learning Targets for P.E. Posters
20 Activities to meet Common Core Standards
: Syllabus, Grading Standards
Heart Rate Lesson
Combatives
Frisbee Games
Low Organized Games
Teacher directions and links doc
"Physical Literacy Check List"
"Easy Way to Meet 20 Common Core Standards in P.E." (All on 1 doc!)
Fitness testing
: 10-Step, Angus Reel, Electric Slide, YouTube Fun Dances, Oh Johnny Oh, Salsa, Zumba, Tush Push, Slappin'Leather, "Aerobic Dance Project"
:
☑️ : See video here!
Super fun 5-days a week at-home P.E. program.
4 days a week of workouts full of student choices, and 1-day a week "Healthy Learning" written assignments!
Includes videos, warm-ups, cool-downs, dance, Pilates, yoga, cardio, videos, and more…
If you aren't doing any P.E. online, or printed for you to lead in class for your activities!They are also perfect
to work on during class, or
☑️ : Click here to see a fun video preview.
Volleyball Unit (4 Weeks)
Basketball Unit (3 Weeks)
Flag Football Unit (3 Weeks)
Soccer Unit (2 Weeks)
Badminton Unit (2 to 3 Weeks)
Softball Unit (2 Weeks)
Weight Training Unit (Semester)
☑️ :
50 Games for P.E. Inside the Gym
Best Cooperative Games for P.E. and the Classroom
☑️ :
Nutrition Unit (4 Weeks)
Body Systems Unit (2 Weeks)
★NEW!★ First Aid Unit
Energy Drinks Sub Plans
☑️ !
Need to change a lesson? No problem! Documents and PowerPoints are and docs are included in both and PDF formats.
are for print and "Teacher Directions," PowerPoints, and "Fill-in" Students Worksheets are also all online!
are in Word and PDF on Google Drive!
45-Day Workout Program is online on Google Slides
20 Common Core Activities for P.E. Class is in Word PDF on Google Drive
Fun interactive "Virtual Health Topic Worksheets" are on Google Slides
! Simply Google Docs to your computer (Yes- text boxes and links remain intact!) and
☑️ :
"Love it!! Made my planning easy!"
"Awesome curriculum!"
"Wow! I LOVE this seller's products…Purchased her P.E. curriculum and I LOVE it. It is amazingly organized with great ideas. It has made my life as a teacher so much easier. I am lucky I found such a great product. This takes years of experience and a lot of time."
"…so easy to set up and follow"
"My goal is to become better organized and more effective in my teaching and purchasing this curriculum is just the first step.
"I LOVE THIS!"
☑️
To show you not only ; but also how to use the Google Slideshows
How Microsoft users can use my Google Slideshows
How to send only one day's lessons to your students
How to add new information/pages to a Google Slideshow
How to edit and upload worksheets
How to voice-over slides, how to add an instructional video on top of slides, uploading to Google Drive tips, how to set up files for an organize Google Drive, and more!
☑️
This Program meets ALL 48 of my Washington State Standards (likely to meet yours as well!)
This program meets the 5 SHAPE America's National P.E. Standards
This program meets ALL 20 Common Core Standards for Technical Subjects.
It's very likely that this curriculum will meet your state's standards as well!

☑️ : With this purchase, you will receive all future updates (new units, games, activities, etc.) that I create related to this "Full Year P.E." resource FOR FREE!
☑️ ★Hear me talking about the program in this short video!
It's not a canned curriculum - this was NOT designed by a company of people who've never taught P.E.; rather, it was designed by me, a P.E. and Health teacher and P.E. Department Head with years of experience teaching all grade levels of P.E.
Through countless hours of P.E. grant work, aligning curriculum to standards, and designing lessons to meet those standards, I've accumulated invaluable experience.
These units been "teacher and kid tested." I've taught them, revised them, taught lessons again, perfected them, and improved them. WHY RE-INVENT THE WHEEL?
Best of all, students love this program. Students who like what they're doing in P.E. are more likely to choose to be active for life! (read the reviews above!)
-------------------------------------------------------------------------------------------------------------
★:
! The goal of this P.E. "at home" program is to help students try a huge variety of activities, and to give students a CHOICE of which workouts they'd rather do! 
-3 Days a Week Weightlifting program with Record Sheets
-Weightroom Circuits with station posters
-BSF program ideas
-The Big 12 Program Link
-Sample High School Program
-60 Weight Training Video Links
-How to Write Your Own Workout
-4 Different Free Weights Routines
-Several Weight Room Recording Sheets
-Summer Olympic P.E. Stations
-Scrabble Fitness
-Uno Fitness
-Army Fitness
-Marine Fitness
-Cross Fit Workout
-Medicine Ball Workout
-Interval Workout
-and more...
:
-Track workouts
-Sweet sixteen
-8-Down
-Spartan Sprint
-1-minute activities
-Jump rope tests
-12-minute run
-Step benching
-Kickboxing
-Dance
-Roam the Halls for Fitness
-and more...
:
-Stretching
-Physioballs
-Best abdominal exercises
-Push Up Routine
-Full Body work
-Resistance bands
Yoga in P.E. Ideas
-Barre
-Stations
-Body weight exercises
-Winter Olympics Beijing 2022 P.E. Stations: Includes stations from print or on Google Drive, and FITT Plan activity and homework to be filled in on Google slides!
-FITT Plan Worksheet
-Muscular Endurance FITT Plans
-Cardiovascular FITT Plans
-Parent FITT Plan Homework
-and more...
Learning Targets for P.E.: 5 National SHAPE standards posters included and templates for creating your own learning targets bulletin board!
___________________________________________
My Full 4-Week #1 Best-Selling Nutrition Unit (20 lessons)
-259 Pages of Step-by-Step Teacher Directions
-7 PowerPoint Presentations with 576 Slides to Walk you Through Each Lesson
-110 Documents - Student docs !
___________________________________________
-Body Systems Unit (Option of Quick 5-Day or 10-Day units)
-155 Pages of Step-by-Step Teacher Directions directly from my #1 Best-Selling Health Curriculum!
-85 PowerPoint Presentation Slides to Walk you Through Each Lesson
-29 Documents
-NEW! Body Systems Worksheet now with QR Codes
-Body Systems group project
-Class presentations with grading rubric
-Optional "Alcohol Board Game"
-"Coronavirus Lesson"
-Unit Test
_____________________________________________
★:
P.E. Syllabus and Grading Standards Chart
WRITTEN WORK: Articles, homework, surveys, and more...
Several Scope and Sequence templates and curriculum maps to help you create the perfect program for your time and facility constraints
President's Challenge AND FitnessGram Fitness Testing Programs: tests, how to improve scores, recording and goal sheets are included
16 written assessments: grading rubrics, study guides, and tests in 6 of the main sport units
Video links to videos to use for P.E. (EXERCISE, nutrition, body systems, motivational…)
! "20 Activities To Do However You Choose." Get standards in your classes without losing too much activity time.
______________________________________________
★:
-SOME OF THE HEALTH-RELATED LESSONS ARE INCLUDED IN THE HIGH SCHOOL HEALTH CURRICULUM and my MIDDLE SCHOOL HEALTH, AND MY NEW SEQUENTIAL MIDDLE-HIGH SCHOOL CURRICULUMS.
•Ask your school district to purchase this curriculum for you!
-Purchase Orders are accepted!
•Copyright © Health Education Today, Inc. All rights reserved by author.
•Each purchase is intended for single use only. Purchases are non-transferable, and should not be shared with others. Additional licenses for your colleagues can be purchased from my TPT store here: Mrs. S.'s Store
•The purchaser is granted permission to make duplicates for classroom use only. Redistributing, editing, selling, or posting this item (or any part thereof) on the Internet are all strictly prohibited unless it is a password-protected student website. Violations are subject to penalties of the Digital Millennium Copyright Act.
•Replacement of the digital version of this P.E. curriculum is FREE.
Thank you for previewing!
Mrs. S.
Cover Photo: https://www.fotosearch.com
Report this resource to TPT
Standards
to see state-specific standards (only available in the US).
Write arguments to support claims in an analysis of substantive topics or texts, using valid reasoning and relevant and sufficient evidence.
Write informative/explanatory texts to examine and convey complex ideas, concepts, and information clearly and accurately through the effective selection, organization, and analysis of content.
Write narratives to develop real or imagined experiences or events using effective technique, well-chosen details, and well-structured event sequences.
Produce clear and coherent writing in which the development, organization, and style are appropriate to task, purpose, and audience.
Develop and strengthen writing as needed by planning, revising, editing, rewriting, or trying a new approach, focusing on addressing what is most significant for a specific purpose and audience.