PIXEL ART 3rd Grade Reading Passages with Comprehension Questions Digital Bundle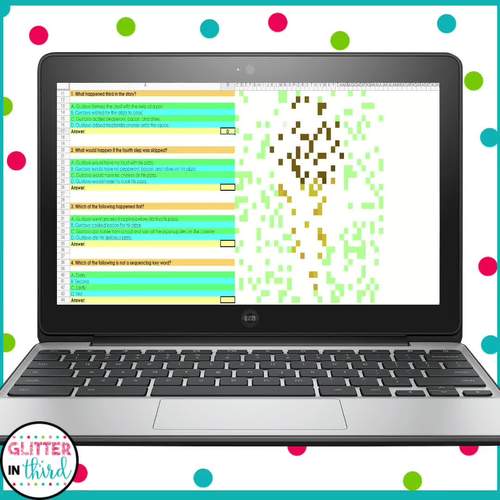 ;
Zip

Google Apps™

Internet Activities
60 digital mystery pixels
Includes Google Apps™
This bundle contains one or more resources with Google apps (e.g. docs, slides, etc.).
What educators are saying
These resources are my favorite "go-to" for my students! They think they are playing a game but I know they are learning needed skills to master grade-level topics!
Extremely engaging and boosted students' reading comprehension! Students were always asking for me to post the reading mystery picture of the day on our Google Classroom.
Products in this Bundle (12)
showing 1-5 of 12 products
Description
Reading Comprehension Pixel Art will change the way that you assign reading passages and comprehension questions to students.
How do they work?
First, students read a passage.
As students correctly answer reading comprehension questions on cause & effect, a mystery picture appears!
What do I receive in the bundle?
What kind of teacher prep is involved?
Self-grading
No teacher prep needed!
Your students will love predicting what kind of mystery picture will appear - and will ask for more reading comprehension practice!
This digital resource uses Google Sheets™ and can be used on Google Classroom and Google Drive. This resource also includes an answer key.
"My students love completing mystery picture activities, and I love that they get immediate feedback."
"The passages are short so students are really able to focus on comprehension without being overwhelmed by a large amount of text."
------------------------------------------------------------------------
What do I receive?
Each product comes in the form of a PDF, which contains a link to the Google Sheets™ resources, as well as an answer key.
Can I download this as an Excel spreadsheet?
Absolutely!
What if I don't have Google Classroom?
This resource works on Canvas, Schoology, Edmodo, Microsoft Teams, etc.
More questions? Not sure how to upload?
Email me at Questions@GlitterinThird.com
Click the green star to follow Glitter in Third and be notified when new products are uploaded. New products are always 50% off for the first 48 hours they are posted.
--------------------------------------------------------------------------------

Interested in more PIXEL ART resources?
Other 3rd Grade Favorites:
------------------------------------------------------------------------
Copyright © Glitter in Third by Kelly Chapman
Please purchase additional licenses if you intend to share this product.
Total Pages
60 digital mystery pixels
Report this resource to TPT
Standards
to see state-specific standards (only available in the US).
Ask and answer such questions as who, what, where, when, why, and how to demonstrate understanding of key details in a text.
Describe how words and phrases (e.g., regular beats, alliteration, rhymes, repeated lines) supply rhythm and meaning in a story, poem, or song.
Acknowledge differences in the points of view of characters, including by speaking in a different voice for each character when reading dialogue aloud.
Compare and contrast two or more versions of the same story (e.g., Cinderella stories) by different authors or from different cultures.
By the end of the year, read and comprehend literature, including stories and poetry, in the grades 2–3 text complexity band proficiently, with scaffolding as needed at the high end of the range.