POETRY UNIT Winter Poetry Activities Figurative Language Poetic Elements Writing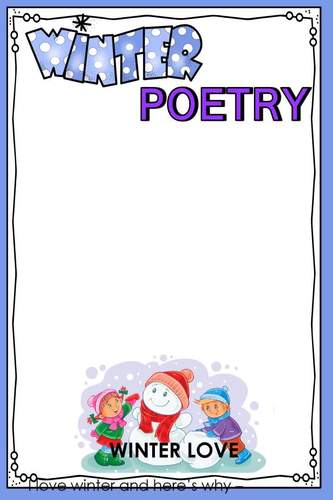 ;
Also included in
4 Seasons of Poetry Possibilities Bundle is an economical combination of 4 poetry units; one for each season of the year. Each unit contains a collection of poems, a teaching point for each poem, and scores of teaching possibilities for each poem. Bargain bundles are the bomb! CONTENTSPOETRY UNIT

Price $15.22

Original Price $21.74

Save $6.52

POETRY POSSIBILITIES MEGA BUNDLE Save 20%! 12 POETRY POSSIBILITIES units are combined into one economical bundle. The poems are copy ready for your students' poetry anthologies. A teaching point related to poetry is provided for every poem, as are skill lessons and activities. The reading range

Price $45.26

Original Price $64.66

Save $19.40
Description
This collections of WINTER poems provides custom lessons that incorporate multiple subjects. The POETRY POSSIBILITIES include a teaching point about poetry, skill lessons, writing models & prompts, and activities. The reading range is broad, making the unit appropriate for primary & intermediate classrooms. Differentiated instruction acccommodates students reading above or below grade level. [elements of poetry, poetry unit, figurative language, reading skills, writing, winter]
16 poems
17 pages of teaching possibilities
1 lantern poem template
1 compound word printable
1 Venn Diagram printable form
Chinese New Year dragon parade craftivity

boy figure – color and b/w template
girl figure – color and b/w templates
dragon head – color and b/w templates
snowman glyph

glyph legend printable
snowman elements – 3 pages
snowman glyph summary template
snowman glyph summary example
poetic devices

assonance
imagery
onomatopoeia
rhyme

rhyme scheme
internal rhyme
meter

iambic tetrameter
trochaic
poetic structure

lines
stanza
couplets
list poem
haiku
lantern poem
present participle poem
5 senses poem
acrostic poem
reading skills

vowels
high frequency words
inflections
compound words
rhyming words
synonyms
contractions
syllables
sentence types
"reading the punctuation"
parts of speech
adjectives
nouns
verbs
capitalization
punctuation
writing

list poem
haiku
lantern poem
present participle poem
pensee poem
5 senses poem
acrostic poem
narrative paragraph
handwriting practice
math

Venn diagram
snowman glyph
snowball graph
Print the poems you will use, making a copy for each child. Have your students add them to their anthologies.
Choose the teaching possibilities you wish to employ. Follow the directions provided.
Most of the lessons provided can be used with small groups for differentiated instruction.
Use the appropriate skill lessons with individuals for RTI.
These activities may also be employed with your whole class.
If you enjoy these Poetry Possibilities, please check out my other Poetry Possibilities units. There are collections for every season, as well as special topics. You may like:
Enjoy!
Barb Evans
► Be the first to know about my new discounts, freebies and product launches. Click here to follow my store. You will now receive customized email updates about my products.
► Get TPT credit to use on future purchases. Please go to your My Purchases page (you may need to login). Beside each purchase you'll see a Provide Feedback button. Simply click it and you will be taken to a page where you can give a quick rating and leave a short comment for the product. Your feedback is important to me. Thank you in advance.
Teaching Duration
1 month
Report this resource to TPT
Standards
to see state-specific standards (only available in the US).
Identify words and phrases in stories or poems that suggest feelings or appeal to the senses.
With prompting and support, read prose and poetry of appropriate complexity for grade 1.
Describe how words and phrases (e.g., regular beats, alliteration, rhymes, repeated lines) supply rhythm and meaning in a story, poem, or song.
By the end of the year, read and comprehend literature, including stories and poetry, in the grades 2–3 text complexity band proficiently, with scaffolding as needed at the high end of the range.
Refer to parts of stories, dramas, and poems when writing or speaking about a text, using terms such as chapter, scene, and stanza; describe how each successive part builds on earlier sections.