PORTABLE CALM CORNER: Self-Regulation Coping Skills & Mindfulness Activities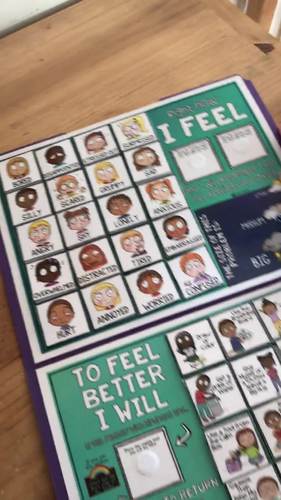 ;
What educators are saying
This is great. I don't have room for a calming corner in the classroom. I love the portability of this resource. Thank you.
I have used this for many years and I love it. It helps guide students to use strategies when taking a break and deepens their self-awareness and self-regulation skills.
Also included in
Save tons of planning time and get your students excited about social emotional learning with WholeHearted's Storewide Growing Bundle! Grab over 140 effective and fun counseling and SEL activities and lessons at 50% off. And help your students to build healthy social emotional skills, such as self

Price $272.11

Original Price $544.22

Save $272.11

This social emotional learning mega bundle contains many of WholeHearted School Counseling's SEL games and activities to help children learn, practice, and develop coping skills, self-regulation, social skills, and self-esteem. This SEL Bundle contains some of WholeHearted's top selling resources.

Price $185.00

Original Price $301.25

Save $116.25

What's in this Coping Tools Bundle: Classroom YogaKids Coping Skills: Stress Management SEL Distance LearningDigital Animated Breathing ExercisesSelf-Regulation Coping Skills & Social Emotional Learning BookMindfulness Breathing Exercises for KidsPortable Calm CornerCalm Down CornerDigital Calm

Price $33.00

Original Price $56.25

Save $23.25
Description
Your students will love using our interactive portable calm down corner lap book! It's the perfect effective behavior management tool that's easy to transport and store. The strong visual supports help students to communicate more easily. This means most students can use the portable calm corner independently. Plus it makes an excellent deescalation tool. Best of all, using it can be a calming strategy in and of itself.
HOW IT WORKS
1. Students identify their feelings and the size of the problem
2. Choose and try one of the 20 suggested classroom-appropriate coping tools
3. Reflect on whether or not they feel calmer, more focused, and ready to learn.
⭐️ ⭐️ Check out the PREVIEW to see more! ⭐️ ⭐️
WHAT OTHER EDUCATORS & PARENTS ARE SAYING
"We no longer had room in my classroom for a physical "Calm Corner," so this was a game changer. Something that can be easily handed to students when they need it." -Michelle
"WholeHearted School Counseling knows children! This resource takes all the pieces of what I know to do to help students regulate and puts them at the students finger tips!! AND the make the product sooo enticing and user friendly. I LOVE the graphics! Thank you for creating this portable Calm Corner!" -Jenifer
"This process honours kids so wonderfully! All feelings are valid and they have the power to regulate. Such a valuable process in an engaging, easy to follow process for kids to do independently. LOVE THIS!" -Jocelyn
WAYS TO USE
Effective classroom management tool to help students with challenging behaviors
Individual intervention for students who need additional support with self-regulation
Allow students to take it to different classes
Acts as a stand alone Calm Corner or used as additional Calm Corner tool
Use as Check-In and Check-Out resource
Great for classroom, counseling office, Break Areas, and at home use, too!
Looking for a Digital Version? Check out the Digital Calm Corner
What's Included:
✔ Choice between full color, light color and black/white printing options
✔ Bonus "How Are You Feeling?" Posters (in 3 printing options and optimized to print in both 8.5"X11" and 18"X24").
✔ Bonus "I Feel" Checklists
COMMON QUESTIONS and ANSWERS
What's Needed to Assemble Choice Board?
✓ Hook and Loop Adhesive Dots
✓ Paper Clips, Binder Clips, and/or Clothespins
✓ File Folder
How many Coping Strategies are Included?
20
How many Feelings are Included?
20
How Can the Portable Calm Corner Help Me Create a Trauma Sensitive Classroom?
More and more we are learning about the vital importance of cultivating trauma sensitive classrooms and schools. Kids need to feel safe, cared for and seen before they are ready to learn and get along with others. Warrior educators like yourself understand this... and this is why we are seeing a movement to implement safe spaces, like Calm Corners in classrooms.
Teaching children self-regulation coping tools helps the thinking part of their brain, the pre-fontal cortex, to get back on track when big emotions -which are adaptive and there for very good reasons- make it hard for kids to engage in school tasks. Many of our students need extra support in this area, often coming to school already in a reactive state of fear, worry & chronic stress. Until we help students manage and relate-with kindness & compassion-to these challenging emotional experiences, they will not be ready to learn the academic tools that students need to be successful in and out of school.
Can Families Use This Portable Calming Corner Kit At Home?
Yes!
What Other Counseling, Wellness, or Social Emotional Learning Resources Do You Recommend to Help My Students or Children Regulate Their Emotions?
___________________________________
Learn about sales, freebies & new resources (that are always 50% off the first 48 hours!):
___________________________________
Earn TPT credit to Use on Future Purchases:
Visit your My Purchases page.
Click on the Provide Feedback button for any Paid Resources.
Leave a short comment and rating.
___________________________________
Need Help With Your Files?
Visit the FAQs section
Contact TpT Tech Support and submit a help ticket
Ask WholeHearted School Counseling™ a question via the Q& A tab
___________________________________
Terms of Use
This resource was created by WholeHearted School Counseling™, all rights reserved. When you purchase a license, it may be used for your personal single classroom, counseling office, or home use only. If you would like to share this product with other teachers, counselors, staff, or administration, please either refer them to WholeHearted School Counseling's™ store or purchase an additional license for each adult use. You can read more details about copyright and terms of use here.
Thank you for respecting the Copyright and Terms of Use boundaries. Take good, kind care of yourself. ❤️
Report this resource to TPT