PRESTO TANGRAM - Rapidez y precisión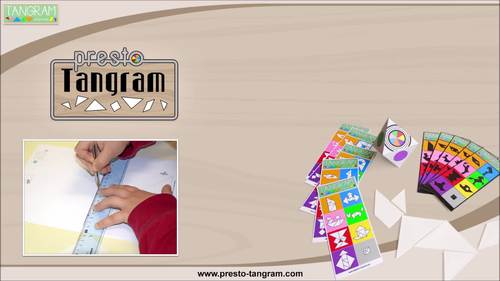 ;
Description
PRESTO TANGRAM - Rapidez y precisión
Hay novedades en el mundo Tangram.
Todo hay que decirlo, los amantes del famoso rompecabezas chino van a tener auténticas dificultades.
PRESTO TANGRAM es un juego muy eficaz que requiere ingenio, habilidad y precisión.
Al final de cada ronda, el jugador más rápido se descarta de una de sus cartas.
Hay que ser rápido, lo más rápido posible... pero siempre manteniendo la cabeza fría.
¡El primer jugador que se quede sin cartas gana!
¿Ahora estás listo para desafiar a un gran número de oponentes en partidas cortas y muy divertidas?
Incluido en el archivo PDF:
- 1 Tangram
- 10 cartas Tangram
- 1 dado de 8 caras
- Reglas del juego
+
Instrucciones detalladas para imprimir, pegar y cortar los diferentes componentes del juego.
Browse tangram puzzles printables resources on Tangram Channel.
© Copyright 2018 Tangram Channel. All rights reserved. Permission is granted to copy pages specifically designed for student or teacher use by the original purchaser or licensee. The reproduction of any other part of this product is strictly prohibited. Copying any part of this product and placing it on the Internet in any form (even a personal/classroom website) is strictly forbidden. Doing so makes it possible for an Internet search to make the document available on the Internet, free of charge, and is a violation of the Digital Millennium Copyright Act (DMCA).
Report this resource to TPT