Paper Folding Direction Following and Sequencing for Older Students {FREE}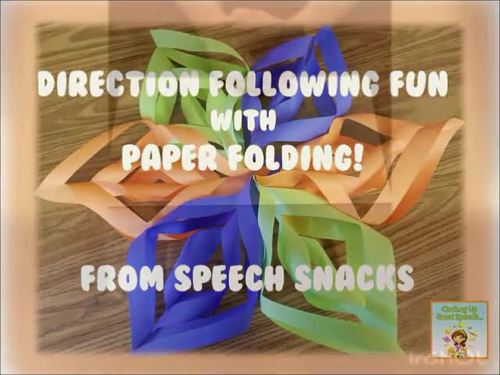 ;
Description
It's a snowflake, it's a flower, it's a star, it's a sun, it's a pinwheel!
It can be any of the above, depending on what time of year you decide to use it!
This year-round paper folding activity is a fun and functional way to address direction following and sequencing.
This direction following activity is geared toward older students who need to strengthen direction following skills---- an age-appropriate project that contains language extension activities.
Ways to address speech and language goals:
1-Read the steps aloud to your students. Ask them to complete each step after hearing the information. Remind them to ask for clarification if needed by asking a question, asking for directions to be repeated or repeating the directions back to you.
OR
2-Use the photos to explain the steps as you create the project. The line under each photo has been left blank so that students can write in the steps or verbally explain the steps. A separate sheet has been included with all the written steps to use as reference.
OR
3-Sequencing: Cut out the photos and mix them up. Students can reorder them in the correct sequence
4-Use the Language Activity organizer page to review the project and organize words/ideas prior to writing in the steps. A blank organizer page is provided so that students can generate their own lists.
Feedback: Ask your students to describe the project---what did they think of the level of difficulty and interest.
Critical Thinking: Ask your student what the projects looks like/reminds them of. Ideas are found on the organizer worksheet page.
5-Creative writing: Students can write a story about the completed project, describing what it looks like, where they would find it, what it's function is. (i.e: if they think it looks like a flower, they can write about a giant flower they found while walking in a park, using good descriptions and answering the WH questions prompts.)
6-For addressing articulation: Students can write words and phrases containing their targeted speech sounds on various sections of the paper folds and keep it as a great visual reminder to practice good articulation.
For updates on new products follow me!
Sign up for my NEWSLETTER
Report this resource to TPT