Parent Teacher Conference Forms - Reminders - Editable - Student Led - Digital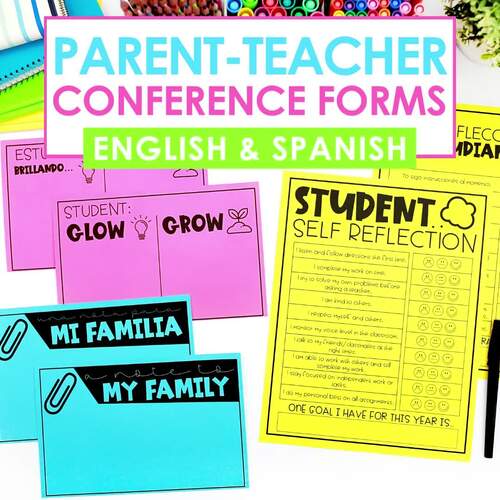 ;
What educators are saying
First year I completed student led conferences! I really enjoyed using this resource, as well as my students.
What a great reflection tool for students and for parents to review their child's progress and reflection.
Description
Make parent/teacher conferences easy and organized!  This bundle of parent teacher conference forms makes meeting with families so much more manageable. There is an option to put the students in charge with student-led conferences. Use this resource to help parents/guardians feel included and heard in their conference!
There are many options for parent teacher conference forms. Create a conference based on what you need to share with parents/guardians. Make conferences an organized and streamlined event that lets you share information about your student! If you are looking for a student led conference, this is a great resource. Everything needed for students to feel confident and proud to share their progress. 
Here's what you'll get:
Printable PDF version
PowerPoint version to add your text to the premade template
Google Slide version
Student self reflection (rating scale & smiley faces)
Student work checklist (to decide what students want to share with families)
3-2-1 Reflection (beginning & end of the year)

3 things I have learned/want to learn
2 words to describe the year
1 thing I want to grow or get better at/I got better at

Note to my family/parents
#GOALS (math, reading, other & blank)
Don't forget reminder
Don't forget to sign up reminder (2 versions)
Student conference outline (student led portion)
Teacher conference outline
Teacher conference schedule
Student led conference letter template (families & parents)
Conference information letter template (families & parents)
Student data information (reading, language arts, math, science & blank) half and full sheets
At home student practice (reading, math, writing & blank) half and full sheets
Student glows & grows (blank & 3 bulleted template)
Pre Conference survey (parents & families, with questions & blank)
Post conference survey (parents & families with questions & blank)
3 different student cover folder pages (color and black & white)
Timer slide  (10 or 15 minute options)
Spanish version of printables
Your students will love feeling in charge of their conferences. Students will feel a sense of pride while they work collaboratively with you to showcase their word for their families. Families feel included with the parent teacher conference forms for parents/guardians.  
Keep conferences organized and on time with the resources provided. Parents/guardians always love getting to see their student work. 
Prep is quick and easy... It won't take you long to prepare for parent teacher conferences!
TEACHERS LIKE YOU SAID…
⭐️⭐️⭐️⭐️⭐️ Erika M. says, "Absolutely love this resource! I love the style and the bright theme. This made planning parent teacher conferences a breeze! The students loved being involved in the planning as well. The parents provided all positive feedback after using this product. I am even using it for winter conferences as well. Thank you!"
⭐️⭐️⭐️⭐️⭐️ Kaley S. says, "I was stoked for this product! I have never had student led conferences and this product helped give me the confidence to do it. I had such great parent feedback! Thank you!"
⭐️⭐️⭐️⭐️⭐️ Marsha W. says, "If you are looking for a lot of bang for your buck get this resource. Helped students with accountability and created amazing talking points during conferences. Very student friendly and really helped while I was in bind."
⭐️⭐️⭐️⭐️⭐️ Natalie H. says, "These are very simple and engaging resources. They get right to the point! I love that there is Spanish versions, too, since many of my families speak it. I made those copies back-to-back, English and Spanish, so that I could understand what I was describing to parents at conferences."
___________________________________
You may also like…
___________________________________
Also, Click HERE  to follow me, to be notified when new products are uploaded and on sale! New products are always discounted the first 24 hours they are uploaded! 
Report this resource to TPT