Parts of Speech, Visual Perception &Crossing midline: NO PRINT OPTION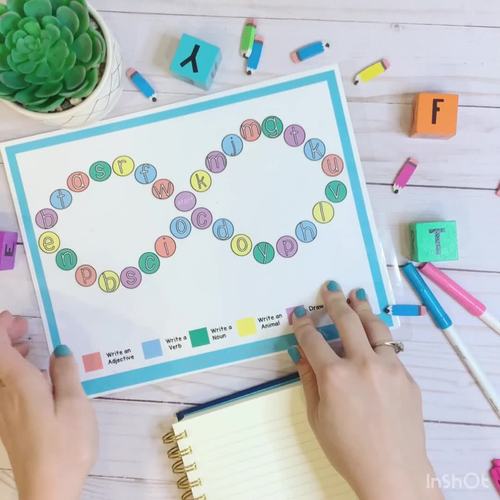 ;
Also included in
If you work with kids ranging from kindergarten to 4th o 5th grade and are looking for fun ways to practice handwriting, this bundle is for you! The unique infinity shaped board encourages crossing midline in addition to the fine motor, visual perceptual skills and visual motor handwriting skills th

Price $14.00

Original Price $17.00

Save $3.00

Are you starting out as a new OT straight out of grad school with a caseload of pediatric clients? Or maybe you recently transitioned from a hospital setting to a pediatric clinic setting. You need a starter kit to help you jump-start your pediatric OT practice. This OT Resource Bundle Includes: Sen

Price $37.00

Original Price $43.50

Save $6.50

Are you trying distance learning or homeschooling your student during the Covid lock down? Looking for ways to support handwriting, drawing, crossing midline, gross motor and visual perceptual skills with NO PRINT options? This ultimate theletherapy bundle will serve all your needs and includes 20

Price $68.00

Original Price $84.00

Save $16.00

Are you looking for ways to keep your teletherapy clients engaged and motivated during virtual distance learning or teletherapy sessions? Are you working on infinity loops and crossing midline? This crossing midline bundle will satisfy all those needs PLUS target the following skills:visual motor in

Price $16.00

Original Price $21.00

Save $5.00
Description
Are you looking for a fun way to review parts of speech (verbs, nouns, adjectives) while also practicing handwriting with NO PREP printable OR NO PRINT teletherapy option for distance learning? The unique game board design provides opportunities to cross midline. There are ways to adapt this game for younger students as well has ways to adapt it for older students if you just want to use it to practice handwriting.
***Please watch the video and view the preview for detailed look inside****
1 alphabet board with lowercase letters
1 board with pictures and an accompanying letter code sheet for an added visual perceptual skills challenge
Player starts with their finger on the "start" point and starts to trace the lazy 8 pattern on the game board. Another player (or a teacher, or therapist) calls out "stop". Player stops on a spot and has to look at the color of the spot and the letter (or doodle) of the spot. Each color corresponds to either a: Noun, adjective, verb, animal, or something to draw. Then they have to come up with one of those words starting with the letter they landed on. For example if they land on a blue "e", they have to write down a verb that starts with the letter "e". If they land on a purple "p", they have to draw anything that starts with a P.
The picture board is used the same way, except they have to de-code the picture they have using the letter code sheet to find out what letter their word needs to start with.
____________________________________________________________
Click HERE to leave a review after purchase. Thank you!
_____________________________________________________________
You might also want to check out:
*FREE* crossing midline info sheet to understand and/or educate others about the importance of crossing midline on children's development.
Handwriting Crossing Midline Game
Crossing Midline Create A Story Game
Follow me on Pinterest and Instagram @TheOTButterfly
Report this resource to TPT