Parts of Speech to Simple Sentences - Speech and Language Activities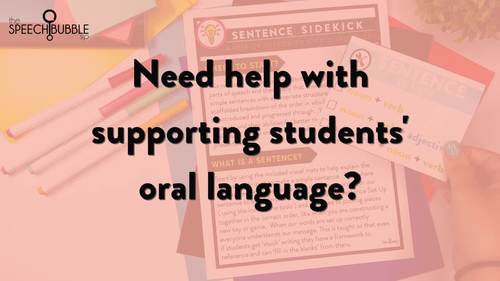 ;
What educators are saying
I love this resource! It is minimal prep and easy to use. I love how this resource is organized and research based.
I so appreciate the organized and structured resource. It helps me so much with planning and I don't have to reinvent the wheel. The activities start with foundation skills and then build.
Also included in
Are you looking for a comprehensive solution to help your students with their sentence writing and construction skills? Look no further than the Sentence Sidekick Bundle! Many students struggle with writing due to a lack of connection between oral and written language. As a result, teachers report t

Price $50.00

Original Price $70.00

Save $20.00
Description
Are you a speech language pathologist struggling to help your students with their writing skills? You're not alone. Many students struggle with writing due to a lack of connection between oral and written language. As a result, teachers report that their students need significant support to complete written work in class.
This not only affects their grades but also their confidence and ability to communicate effectively.
As an SLP, you try to make every therapy session count, but you may be missing a crucial link between oral and written language. Without a solid understanding of sentence structure and construction, students will struggle to express themselves effectively in writing. 
That's where the Parts of Speech to Simple Sentence Sidekick comes in!
The Sentence Sidekick was created to address this problem by systematically guiding students from learning the parts of speech, including nouns, verbs, and adjectives, to applying this knowledge in a practical and structured manner. This engaging product is perfect for speech therapy sessions, providing fun and interactive activities to help students build and write sentences with confidence.
━━━━━━━━━━━━━━━━━━━━━━━━━━━━━━━━━━━━━━━━━━━━
 ✨WHAT'S INCLUDED?
32 Page Manual- Guides you through set up and the scaffolded activities
Scaffolded session instructions
Sample goal with data rubrics
Pretest/Postest
80+ diverse images for nouns, verbs, and adjectives
12 images for a mini is/are activity
Parts of Speech sorting mats for nouns, verbs, and adjectives
30 Parts of Speech in Sentence Identification Pages
20 Sentence Completion pages with visual choices
20 Sentence Construction pages with scramble to unscrambled visual supports for
22 Independent Sentence Setup pages
➡️ Total of 127 Activity Pages that consist of identify parts of speech, sentence subject, and what information is being said about the subject to help them understand the need for verbs and adjectives.
⭐ BOOM CARDS INCLUDED FOR ALL ACTIVITY PAGES!!!
With the Parts of Speech to Simple Sentence Sidekick, you'll be able to target the crucial connection between oral and written language, helping your students to develop essential language skills and become more confident communicators!
*This resource does not introduce or discuss adverbs. Through personal practice I have found students need to first understand the overall classification of 'adjectives' as a general 'descriptive word group' before more subtle, nuanced groupings such as adverbs can be introduced.
━━━━━━━━━━━━━━━━━━━━━━━━━━━━━━━━━━━━━━━━━━━━
WHY 'THE SENTENCE SIDEKICK BUNDLE'?
✏ Research Supports. This resource was created on the base of evidence collected regarding grammatical and syntactical research, as well as my own experiences. References are provided.
✏ Engaging and Easy. By starting with the basics, where students are successful, and building up in skill, systematically we can build student confidence as well as the knowledge need to support them in being successful communicators of oral and written language. Diverse images are provided to support students who are not yet readers and provide context for written activities.
━━━━━━━━━━━━━━━━━━━━━━━━━━━━━━━━━━━━━━━━━━━━
WHO IS IT FOR?☞ This resource has more involved text and would best serve students in grades K-4th.
━━━━━━━━━━━━━━━━━━━━━━━━━━━━━━━━━━━━━━━━━━━━
SEE WHAT OTHER SLPS HAD TO SAY:
❤️"The scope and sequence of these resource is amazing!  If you are looking for a systematic approach to teaching sentence construction, I highly recommend purchasing this product.  I love that it is broken down into 3 levels; it makes it easy to tailor its use to meet individual student's needs."- Beth M.
❤️ "A wonderful resource to teach parts of speech and basic sentence structure. I am so glad I have this resource for the rest of my career. Thank you!" - Natalia M.
BUNDLE & SAVE 
This sentence sidekick is part of a money-saving bundle! Check out the SENTENCE SIDEKICK BUNDLE and get even more writing resources today! 
ABOUT THE SLP:
✋Hi! I'm Maureen, and it's awesome to meet you. I am an experienced and ASHA-certified Speech-Language Pathologist, as well as a Certified Autism Specialist. Being a speaker at the American and Hearing Association Convention, as well as at various state conventions, over the years has been truly inspiring.
✍I have been creating resources since 2012 to help other professionals support their students. I believe in creating thoughtful and thorough materials to help you shine; Innovative and supportive creations to help you love what you do! ❤️
⭐If you have any questions about this resource, or if you simply like to 'talk speech' with me, send me an email at thespeechbubbleslp@gmail.com. 
━━━━━━━━━━━━━━━━━━━━━━━━━━━━━━━━━━━━━━━━━━━━
Customer Tips
Get credits to use for future Teachers Pay Teachers purchases.
Visit the My Purchases Page and click the leave a review button. Your account will be credited for future purchases. 
Having difficulty with a file?
Visit the FAQs section, submit a help ticket, or ask a question on the Q& A tab before leaving feedback.
━━━━━━━━━━━━━━━━━━━━━━━━━━━━━━━━━━━━━━━━━━━━
Follow me for awesome info✨TPT ✨Blog  ✨Newsletter ✨Facebook ✨Instagram ✨ Pinterest
━━━━━━━━━━━━━━━━━━━━━━━━━━━━━━━━━━━━━━━━━━━━
Copyright © The Speech Bubble SLP
Permission to copy for single classroom use only.
Please purchase additional licenses if you intend to share this product.
Report this resource to TPT