Peg Articulation Game Middle School High School Speech Therapy BOOM CARDS™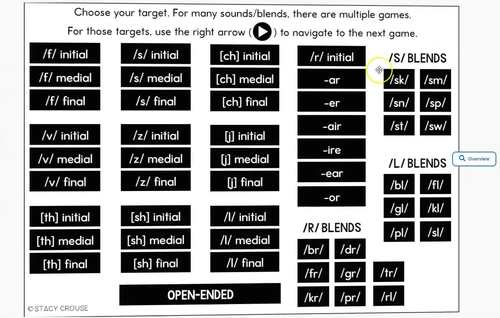 ;
the PDF links to a Boom Card deck of 100 cards
Compatible with Digital Devices
The Teacher-Author has indicated that this resource can be used for device-based learning.
What educators are saying
My students love using this articulation boom deck. It is often quite challenging to find age appropriate articulation activities for the older set and this fit the bill.
My older kids have really loved the challenge of this game. It also gives us really high trials! I found their engagement increased a lot and they requested it in future sessions!
Description
This peg game is a simple and fun deck of BOOM CARDS™ that will help you maximize articulation trials with older students in speech therapy! It's also a great way to quickly collect baseline or progress data, as each word position, consonant blend, and vocalic /r/ has its own card!
This game is easy to teach and learn, and uses strategy to motivate older students that are often bored with most other speech therapy activities! As students practice their specific target sound (in single words or phrases or sentences that they generate), they eliminate as many pegs as they can.
Use the clickable menu card to quickly navigate to the exact sound/blend/word position that you'd like to target. The pegs can be moved by the student, or they can reference the numbers on the pegs as you play (for students in teletherapy without remote mouse control).
This activity can be used...
✅ To elicit a lot of articulation TRIALS during therapy
✅ In any SETTING (teletherapy or in-person
✅ As a HOMEWORK assignment
✅ To REINVIGORATE students that have become bored in speech therapy
✅ To collect baseline or progress monitoring DATA
There are 98 cards of play, which means many sounds/blends have multiple cards. Play the game while practicing each word by itself or in a phrase or sentence. Target each student's specific articulation goal with the following that are included:
initial, medial, and final /f, v, th, s, z, sh, ch, j, l/
initial /r/ and vocalic /ar, er, air, ire, ear, or/
/r/ blends: /br, dr, fr, gr, kr, pr, tr, rl/
/s/ blends: /sk, sm, sn, sp, st, sw/
/l/ blends: /bl, fl, gl, kl, pl, sl/
An OPEN-ENDED CARD at the end of the deck allows you to type your own target words, so you can use it with students working on language goals, too!
Please note that this activity is designed to be used with OLDER students that can read (single words) or will have the assistance of a teacher/therapist/parent to help them identify the target words. The words chosen are not all nouns that can be pictured with images, and the game graphics appeal to a more mature in appearance. The game itself is a form of brain teaser, which is more complex that other articulation activities you may use. For these reasons, this activity is designed for slightly older kids.
Want a closer look? Play a FREE preview!
SLPs like you are saying....
⭐️⭐️⭐️⭐️⭐️ Sara M. says, "Stacy is my go to for materials for older students! This is an age appropriate way to incorporate a game into speech therapy with middle school."
⭐️⭐️⭐️⭐️⭐️ Megan B. says, "I have recently been using this resource to change up our typical articulation sessions with 5th grade students. They LOVE this activity. It's so simple and easy to use digitally. Even my students who don't have remote control access are able to verbally tell me what pieces they want moved, and it's a great way to get tons of trials in. I highly recommend!"

New to Boom Cards?
Check out this ✍️ BLOG POST and this ▶️ FREE VIDEO to learn more.
Plus, learn how to PRINT BOOM CARD decks!
To use Boom Cards, you must be connected to the Internet. Boom Cards play on modern browsers (Chrome, Safari, Firefox, and Edge). Apps are available for modern Android, iPads, iPhones, and Kindle Fires. For security and privacy, adults must have a Boom Learning account to use and assign Boom Cards. You will be able to assign the Boom Cards you are buying with "Fast Pins," (a form of play that gives instant feedback to students for self-grading Boom Cards). For assignment options that report student progress back to you, you will need to purchase a premium account. If you are new to Boom Learning, you will be offered a free trial of our premium account. Read here for details: http://bit.ly/BoomTrial.
Total Pages
the PDF links to a Boom Card deck of 100 cards
Report this resource to TPT