Percents & Money Real-Life Math Project | Coupons, Financial Literacy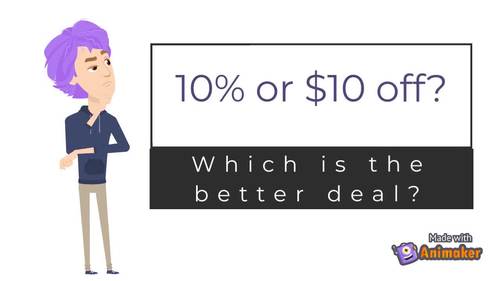 ;
Easel Activity Included
This resource includes a ready-to-use interactive activity students can complete on any device. 
Easel by TPT is free to use!
Learn more
.
Also included in
Looking for a way to make your percent unit memorable, hands-on, and engaging for your math 6 or 7 students? Want to save money?Here you go! Each lesson is self-contained, and requires zero prep — just print and go.What's included?This bundle includes 6 activities involving percentages. It includes

Price $10.47

Original Price $13.96

Save $3.49
Description
This is a print-and-go, SUPER FUN, EASEL-compatible real world math project for practicing percentages. It enables students to learn how to use math to save money! You can assign it as individual homework or as a sub activity. We've also included discussion questions as well, so that it's fun to assign in groups!
Students are introduced to a series of different objects that Jason wants to purchase -- from bean bags to tables, and get to help Jason figure out how to save money! Students are offered coupons for 10% and $10 off, and apply percentages to figure out which coupon would save Jason more money. The discussion questions push students to discuss patterns, and think more deeply about how this corresponds to.
What's included?
4 worksheet pages
1 discussion question page
5 answer key pages
Other real world math projects:
You might also like Doodle Math!
Have artistic kids? Keep them occupied all period long:
Before you go…
Stay updated. this page to stay updated on new activities. 
Join the community. Join us on and for ideas and highlights.
Please leave a review. I'd love to hear how the product is working in your classroom! (TPT gives you credit for reviewing paid products!)
Icons by Icons8.
Each purchased license is for use in a single classroom. If you'd like to share with other teachers, please buy additional licenses. Thanks!
Report this resource to TPT
Standards
to see state-specific standards (only available in the US).
Find a percent of a quantity as a rate per 100 (e.g., 30% of a quantity means 30/100 times the quantity); solve problems involving finding the whole, given a part and the percent.
Use proportional relationships to solve multistep ratio and percent problems. Examples: simple interest, tax, markups and markdowns, gratuities and commissions, fees, percent increase and decrease, percent error.