Phase Change Making Ice Lab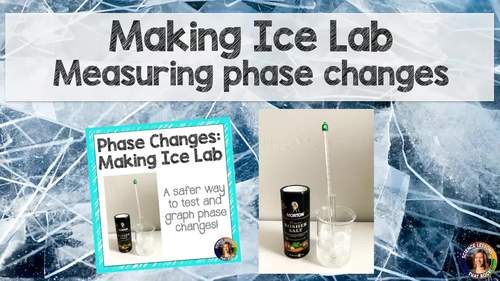 ;
Also included in
Resources in this bundle will help you teach students about the states of matter, phase changes, the kinetic theory, and the law of conservation of mass. Be sure to click on the previews of each product to check them out before purchasing. Be sure to follow my TpT store by clicking on the green "fol

Price $18.24

Original Price $28.50

Save $10.26
Description
Tired of doing the same ol' phase change lab where you melt ice and boil it on a hot plate? Sick of worrying about kids burning themselves on the hot plate? This lab is for you! It teaches students the opposite effect- taking water and turning it into ice. Students will use rock salt to turn liquid water into ice (similar to making homemade ice cream). Materials needed: Thermometer, beaker, test tube, rock salt, ice, water, and a stopwatch. It is a really easy and much safer version of the phase change lab! Students are responsible for collecting and graphing data.
You might also be interested in:
States of Matter and Phase Change Lessons
Be sure to follow my TpT store by clicking on the green "follow me" next to my seller picture to receive notifications of new products and upcoming sales. 
Don't forget to leave feedback to earn TpT credits that can be used for future purchases! 
Want free tips and resources sent to your inbox once a week? Subscribe to my newsletter! You can also...
♻️ Check out my blog
♻️ Follow me on facebook
♻️ Follow me on instagram
♻️ Follow me on pinterest
Report this resource to TPT