Phonemic Awareness Task Cards & Activities Toolkit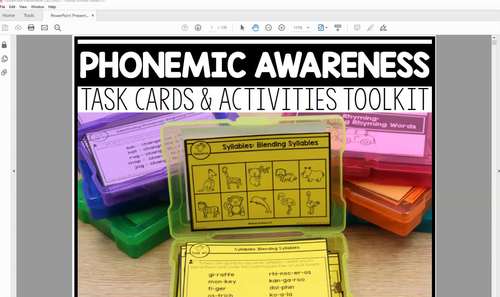 ;
What educators are saying
Prepped the whole kit and used it to focus on phonemic awareness skills in small groups. Great resource!
This resource is a must have in a first grade classroom. All the interventions you need to bring students to grade level expectations in phonemic awareness. Extremely organized and thorough.
Also included in
* * * Questions? Click HERE to Instant Message me! * * *Wow! It's *FINALLY* here! Below I will detail out all of the information about by NEW VIP Bundle! EVERYTHING in this bundle is new, new, NEW! Are you ready to take the leap and become a VIP Bundle owner?! 1. Alphabet Centers Through the Year

Price $180.00

Original Price $336.00

Save $156.00
Description
***** ON SALE FOR 30% OFF *****

* * This packet is part of the VIP Bundle! * *

* * * Questions? Click HERE to Instant Message me! * * *

What is the Phonemic Awareness Task Cart Kit?

The Phonemic Awareness Task Card Kit offers 250 quick "at your fingers" tasks. The task cards can be used at small-groups, intervention, or whole-group. View the detailed unit overview to maximize the kit in your classroom.

* * VIEW A PREVIEW VIDEO HERE * *

What skills are included in the Phonemic Awareness Task Cards Toolkit?

- Oral Language **40 included cards, 2 "voice" spinners**
- Rhyming **80 included cards, rhyming cards**
- Syllables **40 included cards, syllable cards, syllable boards**
- Onset and Rime **25 included cards, clapper cards**
- Single Sounds **25 included cards, BME boards**
- Segmenting and Blending **20 included cards, Segmenting boards**
- Substituting Sounds **20 included cards, Substituting sounds cards**


Questions? Please email me at littlemindsatworkllc@gmail.com

Would you like to receive notifications for my newly released packets and upcoming sale? Be sure to FOLLOW ME here on TPT!
**Join my private Facebook Group to join fellow Pre-K, Kindergarten, First Grade and Second Grade teachers that use my curriculum! Collaborate, chat and share ideas with like-minded teachers! Join the private Facebook group H E R E!
Visit my blog Little Minds at Work
Follow me on Facebook
Report this resource to TPT